San Siro success may be muddied by some very interesting news indeed.
Win the Club Shirt Of Your Choice Simply by Speaking Your Mind!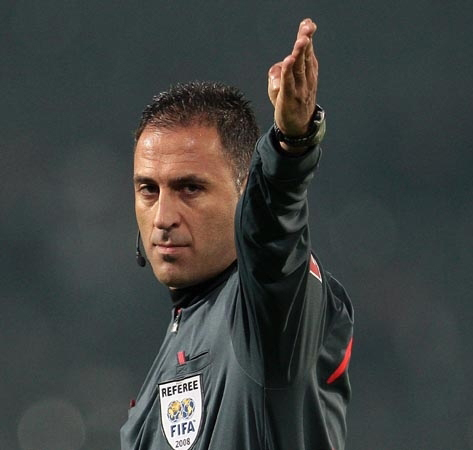 Here is a video dug up from the archives that exposes Tuesday night's 'Portuguese' referee stating at 2:38 "Soy de Milao" meaning "I am from Milan". The curious clip shows Olegario Benquerença singing in what appears to be a talent show, Barcelona fans would feel that he should have looked further into this career after failing to see a foul in the build-up to Maicon's goal, Milito who was offside for the 3rd and deeming a challenge from behind not to be a penalty on Dani Alves, instead booking the Brazilian for diving.
Everyone would agree that Inter where by far the better team but had any of the big decisions gone in favor of the Catalans, the complexion of the tie would be completely different and the release of this video has caused outrage in the north-east of Spain.
Add to the mix the following from The Spoiler
Unfortunately for Jose Mourinho, his team's impressive win over Barcelona on Tuesday has been rather tainted in sunny Spain, with trembling conspiracy theorists high on coffee, and absolutely convinced that not only were Barca robbed, but that Mourinho was in cahoots with the ref all along.

As reported on Sport.es, everyone is going bananas over news that Olegario Benquerenca and Mourinho have actually been pals for the last ten years, ever since Jose was wetting his football chops as a coach in Leiria – a region of Portugal where the ref lives. But it gets worse.

According to the Catalan radio station, COM Radio, the pair were also part owners of a restaurant called O Menino, and were known to hang around at the same swishy haunts.

And THEN, get this: Benquerenca is rather notoriously known as "The Thief" in parts of Portugal for a contentious decision he made during a 2004 match between Porto and Benfica, in which he disallowed a Benfica goal that had (apparently) clearly crossed the line. The Porto manager that day – Mourinho.
We have not heard the last of this story.
Join Our Facebook Fan Page for the Latest News/Rumours/Forums/Videos/WAGS/Funny Stuff/Features!