Whether you're English or Italian, supporting your club through thick and thin sometimes means wanting your team to lose.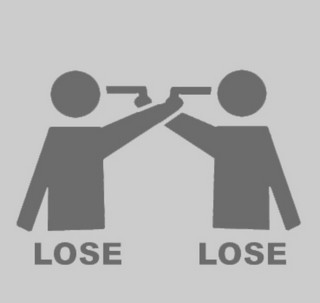 Last weekend, the Premier League saw bitter rivals supporting each other as Tottenham cheered on Arsenal against Manchester City while they in turn were backing Manchester United against Tottenham.
The self-interest of those football clubs and their fans superseded their traditional enmity – for one day only, I must stress – and this weekend a similar story will play out in Italy.
Inter Milan travel to the capital to face Lazio for a fixture in which AS Roma will be praying the visitors falter. The Giallorossi are now playing catch-up once again after somehow contriving to lose at home against Sampdoria on Sunday despite taking the lead and appearing to be in complete control.
Claudio Ranieri's men had dominated the first half and were looking like champions-elect with Francesco Totti opening the scoring and, seemingly, the floodgates. But the torrent of goals never materialised as a barrage of shots were repelled by the stoic goalkeeping of Marco Storari.
Sampdoria's highly regarded striker Giampaolo Pazzini levelled things up just after half-time though it merely encouraged the home side to pour forward in even greater numbers. It was to be their undoing, however, as Pazzini grabbed the winner after a slick counter-attack by the Genoese.
A shell-shocked Stadio Olimpico were left coming to terms with the fact that Roma now sat two points off the lead after Inter Milan's 3-1 win over Atalanta the day before.
The Roma fans must now be praying that Inter can suffer a similar fate to their last visit to the stadium that resulted in a 2-1 defeat for Jose Mourinho's men though the opposition will be markedly inferior than on that occasion.
But that is not to mean that Lazio cannot put in a performance that could hinder the Nerazzurri's title challenge. Their 2-1 defeat against their city rivals was pretty harsh considering they took a first-half lead and then missed a penalty to put the game beyond their neighbours.
They have goal threats in the form of Sergio Floccari, Mauro Zarate and Tommaso Rocchi while veteran striker and Inter old boy Julio Cruz will be eager to contribute from the bench.
While Roma will be looking for a favour from their arch-enemies not all their players are convinced it will happen and, considering the murky world of Italian football, perhaps that is not too surprising.
Luca Toni put in his two cents worth when he said: ""I really hope Lazio will play a great game against Inter. Against the Nerazzurri they will need to give their best and I genuinely hope they will be willing to do so. But knowing that they are from the other side, I am not too confident."
Whether that is his genuine sentiment or an attempt to stir the professional pride of the Biancocelesti, we can't be sure but Lazio's fans will be forgiven for being torn between supporting their team yet secretly hoping for defeat.
It is not unlike a pivotal clash in England this Sunday when Liverpool face Chelsea in a match that looks increasingly like a title decider. The Merseysiders have no love for the Londoners but it pales in comparison to the hatred they have for Manchester United and their quest for a nineteenth league title.
Whether at the Stadio Olimpico or Anfield the home supporters will be going through a conflict of emotions, the like of which they have rarely experienced before.
Arriverderci!
Promotion
Tickets for this weekend's Serie A matches are still available on to compare and buy including Lazio v Inter Milan, AS Roma v Cagliari and AC Milan v Fiorentina. For all the best priced football tickets, visit tixdaq.com.