COS contributor Pablo Siguenza builds his XI of managerial talent that used to be pretty damned useful on the field of play.
Join Our Facebook Fan Page for the Latest News/Rumours/Forums/Videos/WAGS/Funny Stuff/Features!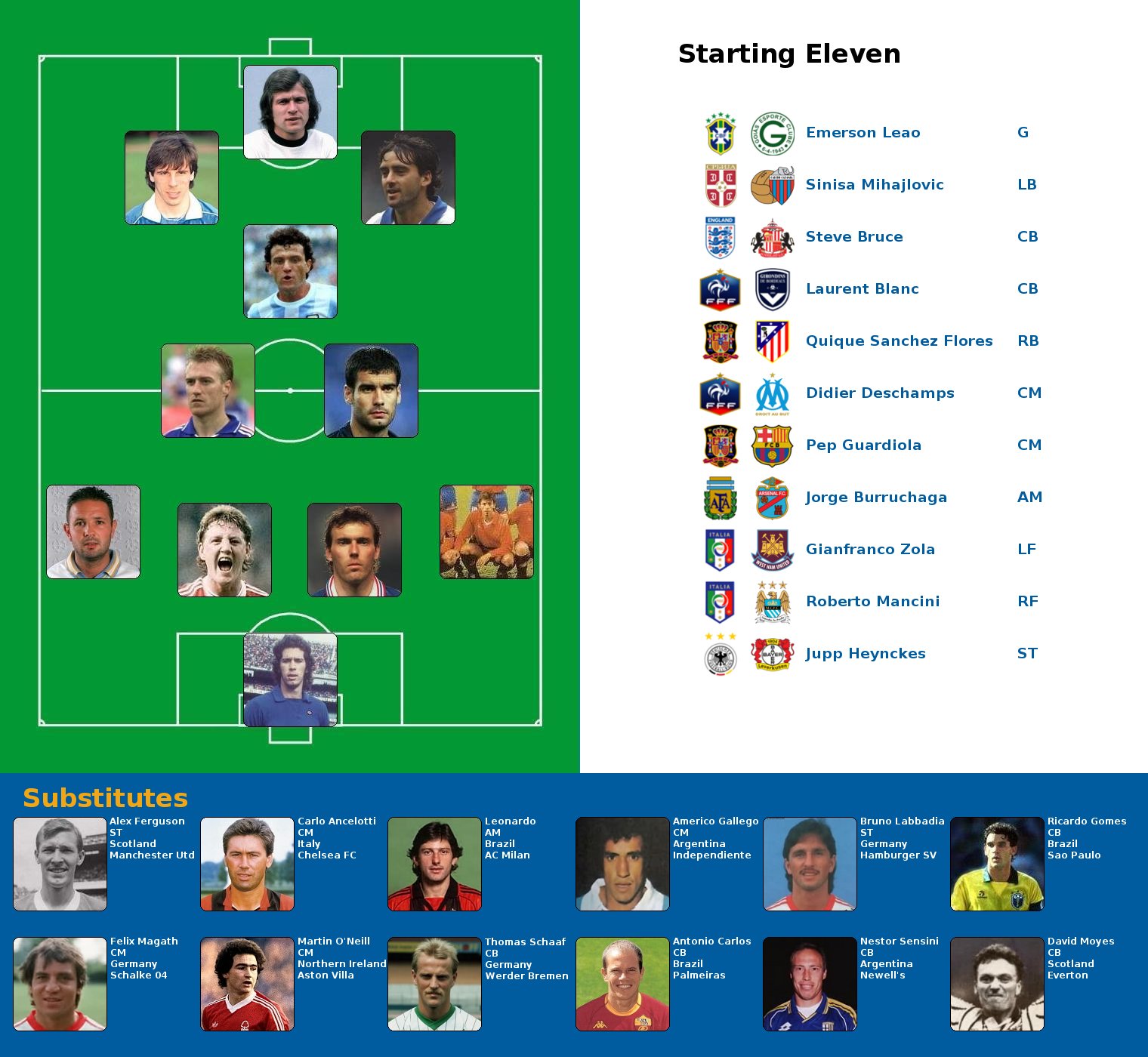 Current Club Managers Best Starting 11 (Click Image above for full squad and formation list)
Training and tactical knowledge are skills managers use to prepare their players for a long and arduous season, but the intangibles are what separates the mediocre from the great. The men with experience in top flight competition, the title holders and the ones that were leaders on the field are the managers that possess an edge over the rest of their colleagues. And what if those men that have gone from childhood football heroes to mentors could turn back the clock and have a run around? Well, if that were possible, here is the dream-team:
Emerson Leao
At goal is Emerson Leao, the fiery Brazilian was captain of the national team at the 1978 World Cup and won it as a reserve in 1970. He has won numerous Campeonato Brasileiro titles as a player and coach, and was most successful with Palmeiras. He was appointed Goias manager on Monday and has the task of cutting 13 players from the 38 man roster.
Sinisa Mihajlovic
Every team needs a free kick specialist, and Mihajlovic at left back is the man you want fondling the ball 30 yards out. Catania has pulled themselves out of the pits of Serie A since Sinisa took over with impressive performances from Maxi Lopez, a player he brought in during the winter transfer window.
Steve Bruce
Anchoring the defence is a player that captained his team to The Double but was never selected to play for his country. He spent nine seasons at Old Trafford and lifted 12 English and European trophies. Now managing Sunderland, Steve Bruce will be looking to finish the season strong at the top half of the table.
Laurent Blanc
Le President had the technical ability, temper and physical presence that served him well throughout his career. Not only has Laurent Blanc achieved success as a player, but he also won Ligue 1 with Bordeaux as a manager. And how cool is it to have a knight and a pirate in the line-up?
Quique Sanchez Flores
Quique Sanchez Flores played most of his career at Valencia, and he won La Liga when he made the switch to the capital, though he only played at Madrid for two seasons. He has his work cut out for him with an inconsistent Atletico side challenging in the Europa League.
Didier Deschamps
Captain of a Champions League winner, captain of a World Champion and captain of a Europe title team, Didier Deschamps is a proven leader in the best competitions in football, it's no wonder he is leading Olympique Marseille to a Ligue 1 title this year.
Pepe Guardiola
Last year's golden boy is hitting some road bumps with Real Madrid and Inter looking to take the Blaugranas spotlight, but before the legendary Sextuplet, Pep Guardiola patrolled the Camp Nou midfield with poise and skill. He won 6 league titles as a player and who knows how many more as a manager.
Jorge Burruchaga
Jorge Burruchaga had some bad times in France where he was banned for two years for his involvement in a match-fixing scandal. But in Argentina he enjoyed success with Independiente in the early 80's, as well as scoring the winning goal in the 1986 World Cup final in Argentina. Now days he is enjoying his second coaching stint at Arsenal de Sarandi.
Gianfranco Zola
West Ham is struggling, and without Tevez to steer them in the good path, Zola was the kind of player they could really use. He was a player that went on the field with inspiration and grit, and took all his individual success with that modest smile of his.
Roberto Mancini
Manchester City may not know this, but Mancini was Italian and Serie A Footballer of the year in his final season with Sampdoria. He moved on to Lazio where he met his future coaching mentor Sven-Göran Eriksson. The former Internazionale manager is looking to return to the Champions League with the Citizens next term.
Jupp Heynckes
What do you know about Jupp Heynckes? Well, won four league titles and UEFA Cup with Borussia Monchengladbach and is the third leading scorer in Bundesliga history. He played for West Germany, who won the Euro 1972 championship as well as the World Cup in 1974. He has coached the likes of Bayern Munich, Real Madrid and Benfica, and has lifted Bayer Leverkusen from the mid table to the top 4 in the Bundesliga.
Substitutes Bench: Americo Gallego, Antonio Carlos, Carlo Ancelotti, David Moyes, Felix Magath, Alex Ferguson, Bruno Labbadia, Leonardo, Martin O'Neill, Nestor Sensini, Ricardo Gomes and Thomas Schaaf.
Visit my blog The 6 Yard Box and don't forget to vote for the Writer of the Month!