Your chance to inspire Old Trafford and Stamford Bridge heroes to national glory.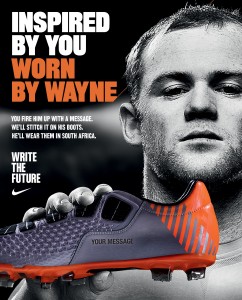 With the end of the season almost upon us, all eyes turn to the summer of football and the players who will be stepping up for England. Leading the charge from the front, Wayne Rooney will be striking fear into defenders in his Nike T90 Laser III boots. And at the heart of the defence, one of the world's best left-backs, Ashley Cole, will continue to wear Nike's CTR 360 boots.
But we did feel the need to make one slight adjustment to their brand new Elite Series footwear before they step onto the world's biggest stage.
Nike is giving fans the chance to stitch a personal message onto each player's boots to inspire them from the moment they pull them on. The winning message will be on every pair of boots they wear throughout the tournament. Entering a line gives a fan the chance to get Wayne and Ashley fired up before every England game.
Whose words will they remember when they step onto the pitch?
Up to 12 characters long, the players themselves will each choose the message which will appear on their own boots. CLICK HERE to enter
A pair of Wayne and Ashley's boots with their respective winning lines stitched in will be unveiled in NikeTown London and of course, they'll be on show all summer long in South Africa.
Entries close on 18 May CLICK HERE to enter.