Back with a bang.

Like a bad sixth form rock band, football has a terrible tendency to
take itself too seriously. You can't open the pages of a newspaper
these days without seeing a gormless face staring out at you promoting
a new boot deal or stepping out with some model you've never heard of.
Time was when footballers knew there place: a muddy pitch, and on rare
occasions the pages of Shoot! magazine talking about their favourite
crisp flavour (Ready Salted).
Recently relaunched website The Gaffer (www.the-gaffer.com) is the
perfect remedy to football's pomposity. Full of spoof news stories
Michael Ricketts is on the plane to World Cup after holiday mix-up
, Vintage Premier League year will improve with age, say
connoisseurs and amusingly silly features like Agony Uncle Gary
Mabbutt "I experimented with cricket and liked it. What does that
make me?" it's a hilarious way to fill the time when you're not
busy talking about super-injunction rumours or David James' worst ever
goal kick.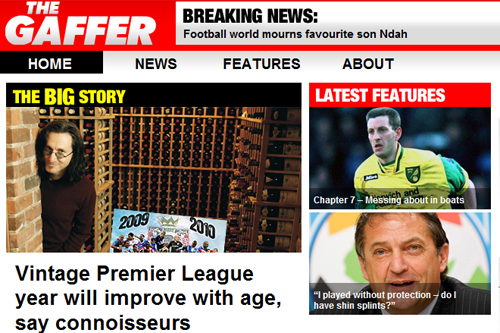 Football mag When Saturday Comes said of the site: "It's taken a
decade or so, but at last there's a football satire site of consistent
quality that avoids the easy path of players' WAGS and haircuts for
poking football in the ribs". High praise indeed. You can follow The
Gaffer on Twitter by CLICKING HERE