COS contributor Oliver Davies takes continues his look at the World Cup Group stages and somewhat predictably follows Group A with, yes you've guessed it, Group B.
Win the Club Shirt Of Your Choice Simply by Speaking Your Mind!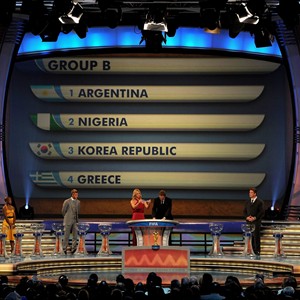 Group B should be easy to call. The winner should be obvious to decide, surely a great draw for a great nation.
But, apparently not. Argentina should be odds on favorites for this one, with the likes of Messi, Aguero etc. but they're not. For this surprise openness and unexpected puzzlement we have only one man to thank. El Diego strikes again.
That is the key feature of this group. The other three teams are Nigeria, Greece and South Korea. They are three good teams, all worthy of in depth looks, but none can harbour serious hopes of winning this tournament.
The major question mark will come as to what those three teams will face. The question of what Maradona will pull out goes past whether Argentina can win the group as comfortably as history suggests. His team could be unstoppable in some games and incapable in others. They could decide who comes second, third and fourth too.
Qualifying was madness for the land of silver. Every few games they had a new formation, and in his controversial tenure as manager Diego has called up over 100 players.
Every decision he makes is controversial. Every move he makes is news. But, why are we surprised? This is Maradona we are talking about, he's taken outrage to a whole new level.
Personally I find the man disgusting, and I find it repulsive that he is still childish enough to act absurdly when both his reputation in the sport and his nation's future are on the line. I think that to have this much focus on a figure in a team game is deeply inappropriate, and suspect that El Diego could have the same effect that the WAGs saga had on England 4 years ago.
Given that I am saying that, you could call me a hypocrite for joining in the media storm and focusing this group's outcome on him. But my hand is forced by the facts. Just look at the squad he released on Tuesday. No Cambiasso, no Zanetti. Instead, 10 players who play in Argentina (20 less than he wanted) and several uncapped players.
But, much as these decisions are illogical, the squad is so good that, even should the worst happen (and it might not) the weight of talent (*cough* Messi *cough*) should force this historic nation into first place.
But that's far from the most important part of the group. Oh, no. I'm a massive fan of the second tier clubs in this tournament. There's always a few go a long, long way, and I find the tactics and stories behind these squads fascinating.

Any of the three could come second.
Greece's recent history is almost unique due to that stunning win at Euro 2004. It spoilt the excitement, but was worth it to see the brilliant tactical advantage they gained every game and how they could shut down the best teams in the world.
Will we get a repeat performance? No. The last two tournaments have been no success, and the tactics just don't work any more. They have to play a more open style, and with the stars rapidly aging the magic can't be repeated.
I don't fancy Greece for this one. South Korea have had a similar past; can the same conclusions be drawn? I don't think so. The run in the World Cup 2002, which they co-hosted, was well deserved. The Koreans showed an excellent work rate and flashes of true class. Little will have changed. The team unit is still in place, and on paper there's no reason why Park Ji-Sung and co. couldn't progress. The odds say that they will come fourth, but I see no reason why South Korea couldn't overturn this.
The final team is Nigeria and they are the favorites to come in second with the bookies. They have a strong, athletic squad which, although it couldn't strut it's stuff at the ACN is still strong with Lagerback in charge and Yakubu, Etuhu and Martins taking the lead. I'm still split as to how good many of the players are, but the spine of a good starting XI is in place.
I don't really fancy any of these three teams for progression to the quarters. Uruguay and Mexico are better than all three of them, and even South Africa could be.
My prediction for the finishing table,
Argentina 7
Nigeria 4
South Korea 3
Greece 3
I'm giving Diego the benefit of the doubt here, but only just. He'll scrape two wins, neither will be inspiring, and a draw against Nigeria. Nigeria themselves won't sparkle, but the stars will do their jobs and they'll beat a poor Greece side. Greece will never shine, possibly getting overrun by Argentina's star players, but will get what points they do get in a key game against South Korea, who look decent but not inspiring. It will all actually be decided on the first day when Korea play Greece. Korea win it, they will go through ahead of Nigeria.
The first two groups are overall poor. The two star teams, France and Argentina, have unprofessional managers and are unpredictable. If my Group A prediction is true, then we see Domenech versus El Diego in the second round. Should be a cracker!
————————————
Oli, this article's author, is the founder and writer of BarnsleyBlog.com; the number one fan blog about Barnsley FC. He's also getting the ball rolling on a new world cup blog, at worldcup.barnsleyblog.com. To see articles like this and much more; why not give it a visit. You'll be warmly welcomed!