It's coming home etc….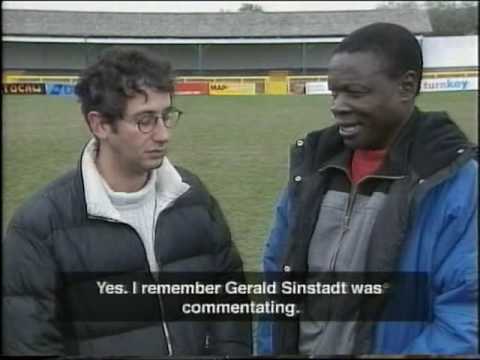 Yes they were responsible for the hugely enjoyable Fantasy Football series and also gave us Three Lions and now they're back and you can keep informed of their antics in South Africa by simply clicking HERE to listen to their podcast for Absolute Radio free of charge.
The pair took the opportunity to simultaneously register their excitement about the forthcoming series and crack amusing jokes, I guess thats why they earn their living from comedy.
FRANK SKINNER said: "I'm incredibly excited about Absolute Radio sending us to watch the football in South Africa this summer. I fully expect to have three lions on my shirt and another couple chasing the Land Rover."

DAVID BADDIEL added: "I'm very much looking forward to going to the World Cup, not least because I've hacked into Fabio Capello's Player Index and am now his highest-rated centre forward."
The pair will be broadcasting throughout the World Cup on practically every damn World Cup day, to keep yourself up to date on proceedings simply CLICK HERE and enjoy the 20 programmes as and when they take place.
Below is the schedule of the podcasts which you may want to pin up alongside your World Cup Wallchart (don't even try to pretend you are too grown up to place such things on your wall/office space).
1 – 6am, Monday 24th May
2 – 6am, Wednesday 2nd June
3 – 6am, Wednesday 9th June
4 – 6am, Thursday 10th June
5 – 6am, Friday 11th June
6 – 6am, Saturday 12th June
7 – 6am, Sunday 13th June
8 – 6am, Tuesday 15th June
9 – 6am, Friday 18th June
10 – 6am, Saturday 19th June
11 – 6am, Wednesday 23rd June
12 – 6am, Thursday 24th June
13 – 6am, Saturday 26th June
14 – 6am, Sunday 27th / Monday 28th June [1]
15 – 6am, Wed 30th June
16 – 6am, Saturday 3rd / Sunday 4th July [1]
17 – 6am, Wed 7th July
18 – 6am, Thurs 8th July
19 – 6am, Sun 11th July
20 – 6am, Mon 12th July
[1] date dependent on Round of 16 results
Win the Club Shirt Of Your Choice Simply by Speaking Your Mind!