This is where Noel Edmonds does that irritating thing where he repeats himself time and again to build up the suspense, whilst simultaneously looking and acting like a twat.
Sign up to CasinoRip and get up to £100 absolutely free!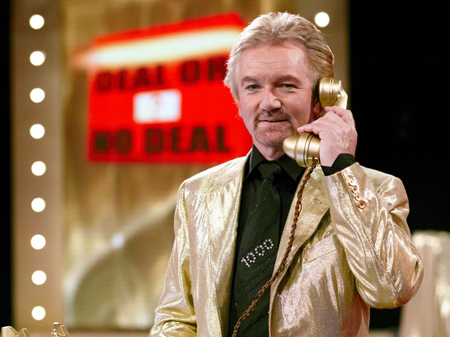 Portsmouth have offered to pay their creditors 20 pence in every pound they owe, says the club's administrator.
The Company Voluntary Agreement (CVA) proposal will be sent to creditors in the next 24 hours and if accepted will allow Pompey to exit administration.
The 20 pence offer is payable over five years, with 75% of unsecured creditors needing to support the CVA.
Administrator Andrew Andronikou told BBC Sport: "We hope to hold a creditors meeting to vote on the CVA on 18 June."
He added: "We've had a dialogue with the major creditors, including Her Majesty's Revenue and Customs to prepare the groundwork."
If the CVA is accepted that would see all of the club's debts settled at a reduced rate over the coming years.
If Andronikou does not manage to win the agreement of the required percentage of the creditor base, it is unlikely he will meet his target of getting Portsmouth out of administration in the first week of June.
Last month, Portsmouth's administrators revealed that the relegated Premier League club's debts were £119m.

In February, Portsmouth became the first Premier League club to enter administration, with debts of £60m-£70m.
However, insolvency lawyer Guy Thomas warned that even if Portsmouth emerged from administration their fans could still face some turbulent times over the next five years.
"At the creditors meeting on 6 May it emerged that HMRC would prefer that any CVA the creditors approve should last just six months, during which the CVA supervisors would seek to "sell" the club to a new company," said Thomas, a lawyer with SA Law LLP, who has written extensively on Pompey's financial problems.
"That would enable Pompey to be run under new ownership, while the 'old club's' conduct in the run-up to administration would be investigated by a liquidator.
"As things stand, without new funding or a different approach, the alternative will be a long drawn-out process lasting up to five years.
"The creditors of Pompey might also want to look at Swindon's experience in a similar process," added Thomas.
"There a similar CVA lasted five years but came close to failing when the club struggled to meet a final year 'balloon' payment." (BBC Sport)
Will this deal be accepted by the long line of those owed money by Portsmouth? Well in many ways they feel that its better to accept something now rather than nothing later. The date of this could be crucial as there is the potential for a points deduction next season which could very realistically send the club into a successive relegation.
The club is in a very real mess and it will take a great deal of co-operation to resolve all the issues and one can only hope that come the end of it there will still be a Portsmouth Football Club at the end of it, something that is by no means certain.