As sure as eggs is eggs there is always one team that seems to self destruct hours before the big kick-off, this World Cup, mark my words, it will be France. And as if to make this self destruction all the more entertaining the Emirates defender has decided to go mad again. Thanks to Dirty Tackle for the disturbing image of Mr. Gallas
Join Bet365 and get upto £200 free plus money back on World Cup bets!
Join CaughtOffside's World Cup 2010 Fantasy Football League and win £5k!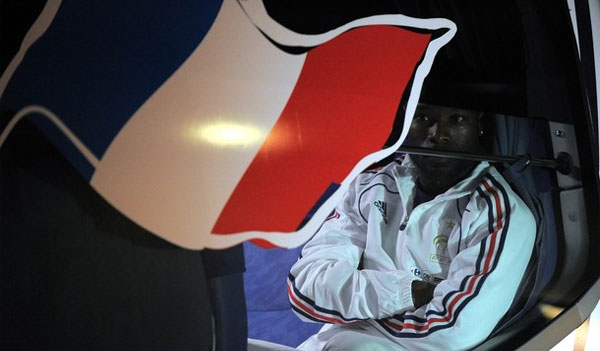 France's difficult relationship with the media returned under the spotlight on Tuesday when William Gallas said he would refuse to speak to the press during the World Cup.

Centre back Gallas was scheduled to appear before the media alongside goalkeeper Hugo Lloris at France's base in Knysna, Western Cape, on Tuesday but only Lloris turned up.

"William has decided not to speak to the media for the duration of the World Cup finals," a team spokesman said without elaborating.

Under FIFA rules, teams are obliged to make only one player available to media each day, the spokesman added.

The France team have been under heavy fire from their local media for years and both the players and coach Raymond Domenech have been persistently criticised for the way they communicate.

When Domenech was surprisingly left in charge after his side's Euro 2008 flop, French Football Federation (FFF) president Jean-Pierre Escalettes said both the coach and the players should make an effort with the press.

The players, Escalettes then told a news conference, would need to speak to the media or face sanctions.

French media have suggested Gallas was upset about the fact that the new team captain was fellow defender Patrice Evra, and not himself. (Reuters)
That Raymond Domenech is still in charge of the French team is a minor miracle that defies rational thought but the most hated man in France then decided to take the squad on a number of team building exercises prior to the tournament that ended in a Go Kart racing accident for William Gallas and perhaps that led to this latest 'crazy' from the Arsenal centre back.
The 32 year old is not a happy bunny and this could heap yet more misery on a footballing nation that seems destined to flop in South Africa. The only reason we would not advise on backing France to not score a single goal, a feat that amazingly managed in 2002, is that they have some an easy group that scoring one solitary goal will not be beyond them. Worth betting on them to fail to qualify from that group though.