Rearrange these words. Pram. Toys. Throw. Baby
Think Argentina will lift the World Cup? Bet with Betfair and get £25 free!
Quality CaughtOffside T-Shirts Available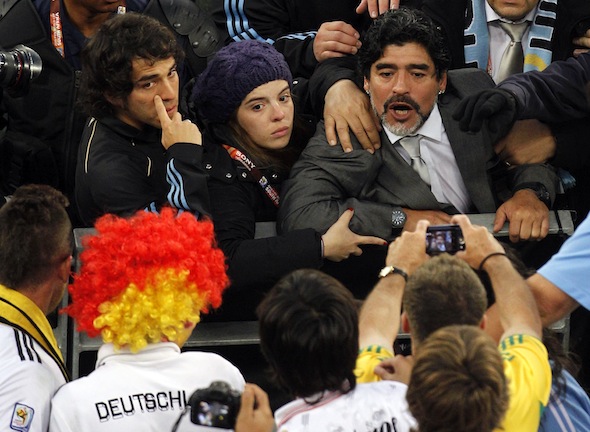 Whilst its understandable that Diego Maradona would have been quite stunned by his side's thrashing at the hands of Germany it does seem a little churlish for the Argentine boss to confront celebrating fans given what those fans had just witnessed.
If I was a German fan and was present at such an event I too would be jumping up and down like a drug crazed Zebra. Hell I might even go as far as to goad the Argentine coaching staff and the players sat on the bench, hell I might even run around like a headless chicken such would be my joy. Given that Diego has celebrated every single Argentine goal like it was a semi-miracle it seems a little strange that he then gets a little uppity when greeted with scenes of sheer jubilation.
Mr. Maradona is apparently due to quit his post after this shocking result. He has stated his massive disappointment at the way the game panned out and is probably hoping that he gets the backing of the AFA, something he may well end up waiting some time for.