Yep, they are at it again. Emirates skipper once again targeted by Nou Camp outfit.
Think Germany will lift the World Cup? Bet with Betfair and get £25 free!
Quality CaughtOffside T-Shirts Available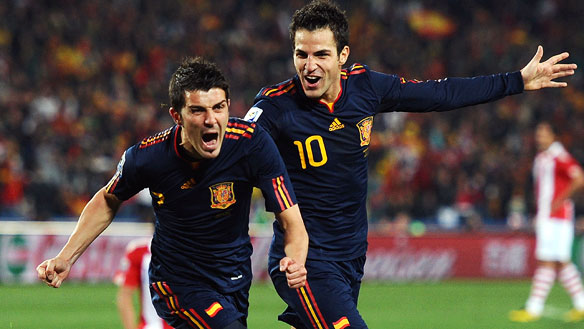 BARCELONA boss Pep Guardiola has made a secret visit to Spain's World Cup base to try to land Cesc Fabregas.

He went to see his own players in South Africa but at the same time is believed to have had a chat with Arsenal skipper Fabregas.

The Spanish giants want to sign the midfielder for around £35m – despite Gunners boss Arsene Wenger insisting he is not for sale.

Arsenal will now be fuming over Guardiola's visit to the training camp.

Guardiola is understood to have told the 23-year-old his club will do everything in their power to land him this summer.
New Barca president Sandro Rosell also spoke to Fabregas' family at the Catalunya MotoGP bike race on Sunday, and they were all photographed together.

A source close to Fabregas said last night: "Sandro Rosell is a good friend of the family and things have not changed from earlier in the summer.

"Cesc wants to return to Barcelona where he grew up and the club are trying to make that happen." (Daily Star)
Supposing for one second that this source is accurate and this meetings have indeed taken place, and given the source we are talking about that's a pretty big IF, but if this did take place then surely this is as blatant a case of 'tapping up' as is humanly possible!
If a club's boss attempts to meet a proposed target and the club's owner does likewise with Cesc's family, surely a line has been crossed for perhaps the 100th time in this Fabregas saga. You can guarantee that had this been the other way around and a Premier League side had been doing the 'tapping' then Michel Platini would have stuck his nose in by now.
Arsene Wenger has complained about the tactics used by the Catalan club but still they persist. The La Liga giants made a bid, it was an insult of an offer and was turned down. Barcelona then said they would not pursue the matter, but it seems they are in fact doing just that.
I have lost count of the number of times the Arsenal skipper has been touted by the Spanish giants and not just by the board and the club's boss but also by a number of the Barca team also. On the plus side the fact that Cesc is struggling to get a spot in the national team starting eleven may well be a wake up call for the Emirates captain as he may well find himself in the same situation if indeed he did wish to make the move back to his former club.
So a message to Pepe, Sandro and the rest, Keep your grubby hands off!