Back the Bayern man to get booked for diving!
Think Germany will lift the World Cup? Bet with Betfair and get £25 free!
Quality CaughtOffside World Cup T-Shirts Available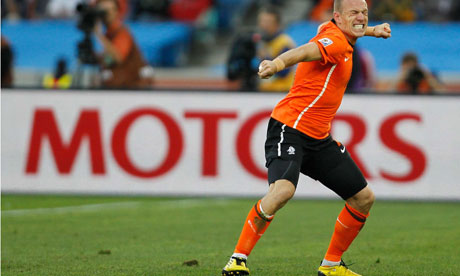 Welcome to the World Cup Bet of the Day. We will be giving you a tip for every single day of the 2010 World Cup. If you follow our advice you may win a ton of money, you may also lose every penny you own. Its down to you, these are only suggestions. We aren't making you spend your money!
So every day we be placing £10 on a bet and you will be able to see the running total throughout the proceedings to see just how we are doing.
World Cup Bet of the Day: Day 22
So we had a decent win on the last World Cup day of activity with Spain and Germany doing the honours with wins within 90 minutes, helping to redress some of our previous losses. Lets hope tonight's bet can be as effective.
We are going to split our daily budget on two bets. Firstly we are going to place £5 on Holland winning within 90 minutes that will earn us £8.64 and we are also going to put a fiver on Arjen Robben getting the first card of the day, this is due to his incredible ability to dive all over the shop and the £5 on that would earn us a tasty £80!
Running Total : – £58.34