Emirates manager immortalised by racehorse.
Think Chelsea will win the Champions League? Join Betfair and get £25 free!
Join the Free CaughtOffside Fantasy Football League and Win £20k!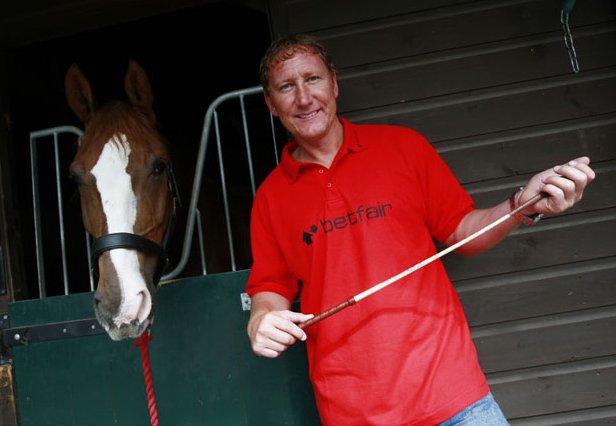 PARLOUR RIDES WENGER IN FIVE HORSE RACE

FORMER Arsenal star Ray Parlour is getting on Arsene Wenger's back ahead of the new football season. In fact the 37-year-old Gunners legend is really sticking the boot in.

Parlour isn't complaining about Wenger's lack of activity in the transfer market, or telling the Frenchman to do all he can to keep hold of prized midfielder Cesc Fabregas.

Instead 'the Romford Pele' is preparing to ride a horse cheekily nicknamed after his old, and often long faced, boss in Betfair's Five Horse Race at Kempton Park Racecourse, London, on Thursday 5 August.

The midfielder is taking part in the event alongside Kerry Dixon, Neil Ruddock, Steve Lomas and David May. The one furlong race highlights the fact that, for the first time in Betfair's history, the betting points to a five-way Premier League battle, rather than the traditional BIG FOUR showdown. The five players are representing their former clubs, all of whom are 15-1 or shorter to win the title.

Parlour, who left the north London club six years ago, is looking forward to keeping a tight rein on his former boss' namesake when he comes under starters orders.

Ray Parlour said: "I would never call Arsene Wenger an old nag; in fact he's the complete opposite, a real thoroughbred. I'm looking forward to representing the club once more and riding Wenger to victory on race day. Now there's something I thought I'd never say."

Premier League winner 2010 / 2011 Betfair bet: 9-5 Chelsea, 14-5 Manchester United, 5-1 Manchester City, 7-1 Arsenal, 15-1 Liverpool (Betfair)
My money is on Ray Parlour to romp home for no particular reason other than the fact that the Arsenal man still manages to perfect the face of a Dickensian street urchin with resplendent cheeky smile. Neil Ruddock is fighting to shed the pounds needed to be allowed to 'board' a horse and then if/when he does so, the real fun begins.
This is of course all in aid of celebrating what should be potentially the most keenly fought Premier League title race yet. Rumours that Ruddock's horse will be given a steroid injection to cope with carrying the extra load are, unfortunately for the horse concerned, utterly untrue!
Keep your eyes on www.betfairfootball.co.uk for more news on the Betfair Five Horse Race