Five horses, five footballing legends, one winner. COS contributor Dominic Campbell went along to Kempton Park to see who romped home.
Bet on Liverpool to win the Premier League with 888Sport and get upto £20 refund on your first bet!
Join the Free CaughtOffside Fantasy Football League and Win £20k!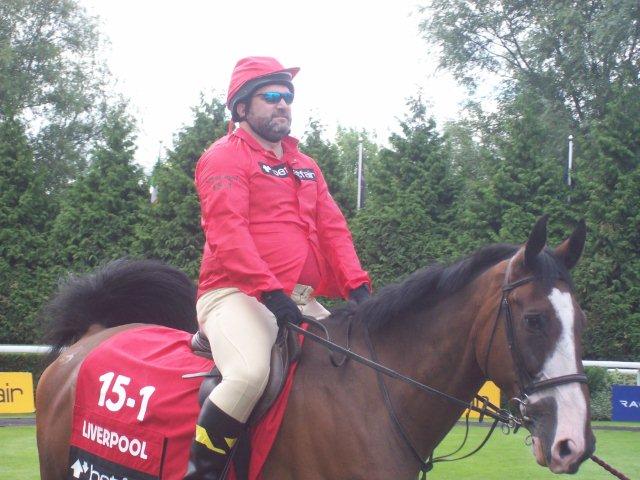 I have never been a fan of horse racing, nor have I ever shown any desire to pursue an interest in the sport. However, when I was given the chance to watch 5 legends risk life and limb to ride such powerful creatures, I couldn't resist.
The season ahead is the first time that 5 teams have been under 15/1 to win the title. So what better way for Betfair to commemorate the occasion than to hold a 'Five Horse Race'.
Chelsea's second all-time top goal scorer Kerry Dixon, represented his club who are favourites to lift the trophy at 9/5. The second favourites, unsurprisingly are Manchester United at 11/4 who had European Cup winner David May racing for them. Steve Lomas had the pleasure of competing on behalf of City who are third at 11/2. Further down the pile saw Ray Parlour and Neil Ruddock representing Arsenal and Liverpool, respectively. Arsenal weighs in at 7/1 while Liverpool are the long shots at 15/1.
How would the odds reflect the horse race, though?
Steve Lomas finished two horse lengths ahead of the others to comfortably claim the Betfair crown. Speaking to Caughtoffisde, the German born Irishman spoke about his win:
"I rode a horse a couple of times, but not to go at that speed. It was exhilarating and something that I would like to do again; though there was a slight trepidation as we only had one hour training before racing."
"I think I was the lightest and I had the best horse, it wasn't my horse riding skills that's for certain.
 "Beating them boys was fantastic, but to be fair there was a bit of excess weight." He joked, referring to a Neil Ruddock who had to shed the pounds in order to compete.
One of the legends who perhaps was less thrilled with the race was David May, who had been thrown from his horse during training.
"All credit to him [David May]. I saw him lying down and thought that he may have been hurt, but he got straight back up.
Kerry Dixon finished second, while Neil Ruddock, Ray Parlour and David May claimed third, fourth and fifth. Should the results have any bearing on reality, then the coming season will be interesting as Manchester City fans hope that their team can emulate Steve Lomas' antics. Perhaps it's an omen, or perhaps like Steve said: he just happened to be the lightest with the best horse.