With the fantasy football season fast approaching, it's now time to be putting the final touches to your team, and that starts at the back.
Join the Free CaughtOffside Fantasy Football League and Win £20k!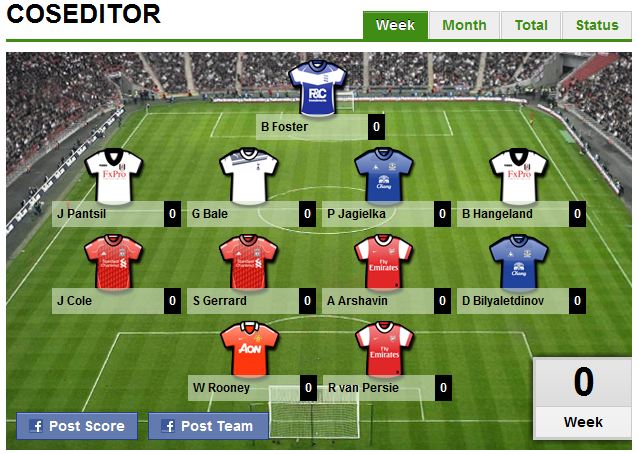 Join the CaughtOffside Fantasy Football League for Free! CLICK HERE to sign up and you could win £20k for the overall Absolute Radio League as well as a £500 prize we are putting up for the winner of our own league. All you need is our PIN NUMBER which is 1312.
Defenders and goalkeepers may not be the most exciting players in the game, but without a solid defensive foundation your team will never succeed. I am from www.fantasyfootballassistance.com, a website where a team of fantasy football experts give advice and assistance to fans of the game. In this addition of a series of articles I will be providing advice on the defensive players of fantasy football, but to gain the full appreciate the advice our experts can provide, both on defensive players and on fantasy football overall, you will have to visit our website. For today though, goalkeepers and defenders:
Firstly, goalkeepers. There are two basic tactics which work well for goalkeepers. The first of these is the most common and is to pair one 'big team' goalkeeper with one goalkeeper from a smaller team. In the opinion of our experts this can work well, but the key is making sure both goalkeepers will be playing week in week out, and that you aren't spending too much. If you are an advocate of this strategy then we would recommend making sure your big team keeper costs no more than £6m, and your cheaper keeper should be only £4m. Good keepers for four million can be hard to come by, and for this reason we do not believe this tactic is the best, but if you do insist on using it then Scott Carson could be a solid £4m keeper from West Brom, provided he starts. The other tactic and the tactic that our experts believe works best is to pair two keepers of £4.5 m who rotate well. By rotate well we mean that the respective teams of each of these keepers don't often have hard fixtures in the same gameweek. This means that you should always have one keeper available with a relatively easy fixture each week. Keepers that rotate well can be hard to come by, but Foster of Birmingham and Hahnemann of Wolves alternate home and away fixtures for the majority of the season, meaning you could get both and have a solid pairing. One advantage of this tactic over the first is that it costs considerably less; if you choose two £4.5m keepers over one £6m keeper and one £4m keeper then you save a full £1m to be spent elsewhere.
Once your keepers are sorted, you move onto defenders. The initial key for defenders is to not spend too much. Many people make the error or buying in the most expensive defenders from the big teams, but actually many of these defenders average only 3 or 4 points per game, which for roughly £7m is not nearly enough. We recommend your defensive set up should pair some starting defenders from top half teams, such as Jagielka from Everton, with guaranteed starters from the mid table teams who cost only £4.5m. If you can make sensible decisions based on fixtures, and have 5 defenders who all play 90 minutes in your team, then you can rotate effectively meaning that each week your starting defenders have relatively easy matches. If you do feel you need an expensive defender from a big team for consistent scoring, we would recommend Ashley Cole. He comes at the very top of the pricing options, but that is for a reason. Not only are you guaranteed regular clean sheets, but with his attacking style and Chelsea's goal scoring prowess, assists and goals are likely. For other, cheaper defensive options though, look below.
Goalkeeper recommendation – Ben Foster. After another quiet season at Old Trafford with only 9 league starts, Foster made a move to Birmingham, replacing Joe Hart and securing first team football. Last season Hart made the second most saves in the premier league and it seems likely with a similar Birmingham defence shaping up for next season that even if Foster fails to keep a clean sheet, he is likely to pick up points for saves to compensate. With only 2 of their first 6 games coming against teams who finished above them last season, Birmingham have a relatively easy start. Also, Foster rotates well with other £4.5m keepers, notably Robinson and Hahnemann, and for this reason fits perfectly into the option recommended by our experts.
Defender recommendation – Zat Knight. A first team regular at Bolton, Zat Knight played the most minutes of any Bolton defender last season and this consistency of appearance guarantees points for any manager who selects him for their team. Knight also has a great disciplinary record, acquiring only 1 yellow card in the premier league last season. This means managers won't be throwing away points through yellow cards (worth -1). Furthermore, Bolton have one of the easiest starts of any team, facing no European qualifiers during their first 3 matches. The cheap price tag of only £4.5m also means that Knight can be brought in amongst other defenders of a similar price and can then be rotated each week. He may not be the most exciting buys, but as cheap, defenders go, our experts believe Knight is one of the best options available.
Defensive gamble – Some people feel that sticking to the well-trodden road of safe picks doesn't give them enough excitement, and for them we have provided this gamble option. Ahmed Al-Muhammadi has moved to Sunderland on a season long loan from ENNPI in Egypt, and is priced at only £4.5m. The pacey 22 year old can play at either left back or left wing, but with manager Steve Bruce having just purchased another left back it may be that Al-Muhammadi will be employed on the left side of midfield. This would obviously mean Al-Muhammadi would have a good chance of scoring points for assists and goals, particularly with the goal threat of Darren Bent up front, but he would still gain 4 points if Sunderland keep a clean sheet. The downside is that there is no guarantee Al-Muhammadi will start, and with Sunderland's early fixtures not being the easiest it could be that he takes home a meagre points tally early on. You will have to decide if you're willing to take a gamble on Al-Muhammadi for the start of the season.
The above advice is only a fraction of what can be found at www.fantasyfootballassistance.com, so if you really want to succeed in fantasy football, that's the place to visit. Coming next in the series is midfielders, with some more exclusive tips for you, the readers of caughtoffside.
Now you've had your helpful bit of advice now is your chance to put it to good use. Join the CaughtOffside Fantasy Football League for Free! CLICK HERE to sign up and you could win £20k for the overall Absolute Radio League as well as a £500 prize we are putting up for the winner of our own league. All you need is our PIN NUMBER which is 1312.