Have the Old Trafford side won the race for the German international or did someone simply photoshop a webpage of hack into Official Club Website?
Think West Ham will get relegated? Join Bet365 and get upto £200 free!
Join the Free CaughtOffside Fantasy Football League and Win £20k! CaughtOffside Fantasy Football League – PIN Number 1312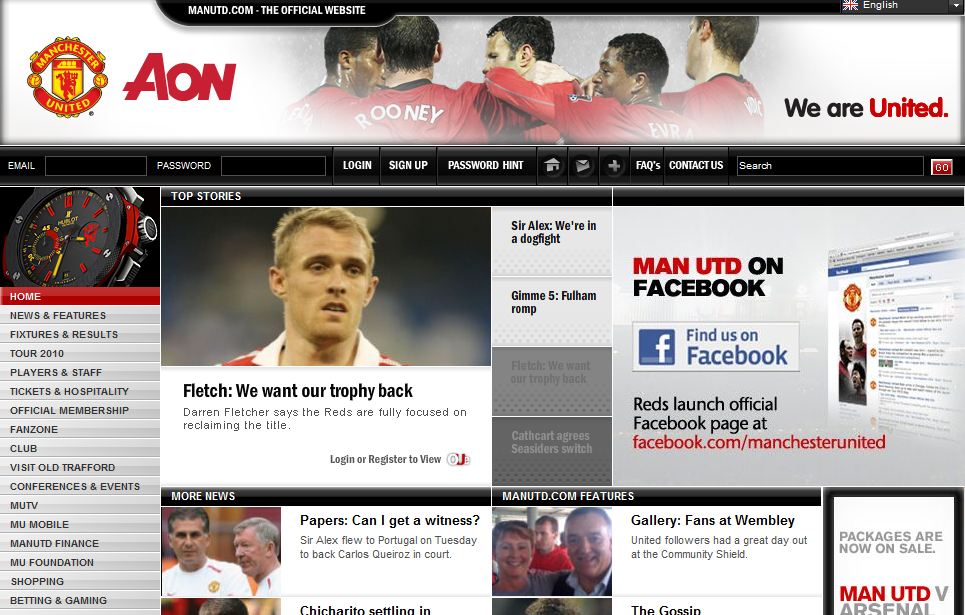 Mesut Ozil signs for Manchester United according to official website
Mesut Ozil is arguably the hottest property in European football right now, but if Manchester United's official website is anything to by, they may have won the race to sign the in-demand midfielder.
On the first team profiles section, Ozil has been given his own entry – albeit lacking in detail – but the mere fact that it's there has set tongues wagging.
Ozil was one of the stars for Germany at the 2010 World Cup finals in South Africa. His impressive performances led to widespread speculation that he would leave Werder Bremen this season for one of Europe's top sides this summer.
The likes of Barcelona, Chelsea and Arsenal have all been linked over recent weeks, but it was United boss Sir Alex Ferguson who was in the stands at Craven Cottage on Saturday to watch the 21-year-old in action.
The Red Devils' manager confirmed his interest in signing the Germany international, and it now seems that Old Trafford will be his most likely destination.
But this isn't the first time that something similar has happened, only for the player in question to move elsewhere. Perhaps the most famous example involved Robinho. His shirt was readily available to buy on Chelsea's official website, only for the Brazilian to opt for a transfer to Manchester City instead.
And this deal may not even happen, either. But one thing certainly can be guaranteed: it won't stop the United faithful from getting hugely excited at the prospect of seeing Ozil in a red shirt. (Bettor.com)
Firstly let me state that this is not speculation we have dreamt up but something that was brought to our attention and was reported on, see above, by another source. We have since visited the official site and it appears that any such reference to the German international having signed has now been removed, if indeed it was ever there. We have seen evidence of the initial reference to Mesut Ozil being part of the official squad section of the site and it was very bare and could easily have been mocked up, but did appear with a URL that was related to the Official Manchester United website, which again would be very easy to mock up.
Someone appears to have a lot of time on their hands. We do not think this was a case of the Old Trafford club getting ahead of themselves as clearly they wouldn't be so unprofessional. That being said it does seem that news that the 21 year old Werder Bremen man had signed for Barcelona, a story we reported on, and did not break, yesterday. Sir Alex Ferguson appears to want the talented playmaker and who knows, maybe he will get him!