COS columnist Perez Shilton has been tracking a certain ex-England manager and can exclusively reveal his desire to fill every vacant position in football.
Think West Ham will get relegated? Join Bet365 and get upto £200 free!
Join the Free CaughtOffside Fantasy Football League and Win £20k! CaughtOffside Fantasy Football League – PIN Number 1312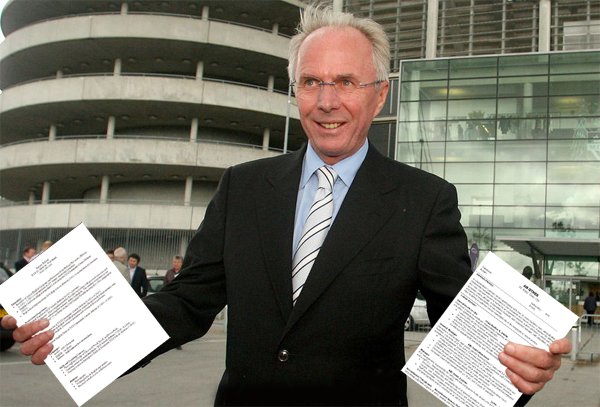 Say what you want about Sven Goran Eriksson's womanising, his lack of loyalty to any one employer and his mercenary money grabbing nature, but you can't fault his sheer ruthless opportunism. Less than a day after Martin O'Neill's departure and Sven is already at Villa Park handing in his CV.
And that's not the only job he's after. Perez Shilton has learned he has also applied for the vacant role as secretary at Tranmere Rovers after learning that their current member of staff has gone on maternity leave, the position of ball boy at Altrincham less than an hour after he found out that the current one had been hit by a tram and hospitalised and in the last hour, Shilts has learned that he has also applied for England's back up right back, a spot vacated by Wes Brown.
After routing around in bins and looking through shredded documents, Perez Shilton has been able to piece together the CVs Goran Eriksson used each time:
—
To: Tranmere Rovers Front Desk
Position Applied For: Club Secretary
Name: Sven Goran Eriksson
Skills: I have a number of secretary related skills including the ability to use the telephone communicatory device as well as the screen deeley with the monitor and the keyboard where you press the buttons and letters appear on the screen deeley, the ability to be vague and tell people who ask questions that I'll have to speak to my superior supervisor and then pretend to ring him and then say that he's not in right now try again later, and best of all I can pull off the sexy clothing such as the mini skirt and the low cut jacket. I would very much like this job as I could sit around not doing much whilst doing my charming with the attractive members of staff and admiring their anatomy such as the buttocks or the milk dispensers.
Experience: I have had the intercourse with over fourteen different secretaries in my time, both male and female, and one time with a secretary's pet dog after she told me to look after it while she went on a cigarette break, and from these experiences I have ascertained much about the job.
References: Tord Gripp, Cindy, Betty, Mary, Barbara, Sue, John, Fido and a few others I can't remember the names of
—
To: Altrincham
Position Applied For: Ball Boy
Name: Sven Goran Eriksson
Skills: I can move my limbs in a quick motion which pretty much resembles the motion of running, can identify the football and rarely get hospitalised after being hit by trams.
Experience: I have stood on the touchline and not really bothered to do my job properly for a large amount of my career, which makes me perfect for the position. If possible I would like to be positioned directly below the VIP executive box as this is where I have spotted the most voluptuous females during my time as a manager.
References: Tord Gripp, The FA, Manchester City, The FEMEXFUT, Notts County, The FIF
—
To: The FA, Mr Fabio Capello
Position Applied For: Utility Right Back
Name: Sven Goran Eriksson
Skills: I can kick a football aimlessly down field to nobody in particular, have better hair than Glen Johnson and do not currently have a woman partner that John Terry could sleep with that might ruin squad harmony, though could find one if this was necessary. I could also carry out this deed myself if I was required to. Stevie G's misses looks tasty.
Experience: I started my career as a right back plying my trade in the Swedish second division. This is a higher standard than currently achieved by Gary Neville today.
References: Tord Gripp, Torsby IF, SK Sifhälla, KB Karlskoga, Västra Frölunda IF, Gary Neville
—
There you have it, a privileged look at the workings of the maverick Swede Sven Goran Eriksson. Please note that the documents Shilts found were largely covered in stains or were shredded and therefore they may not actually have read exactly how they are printed, or even been the handiwork of Sven. Although Shilts suspects they are.