Who's raking it in and who's short of a few bob. The whole top one hundred richest people in the game.
Bet on an English Team to win the Champions League Join Betfair and get £25 free!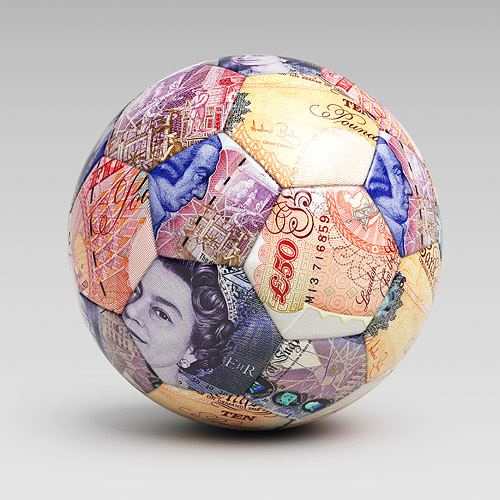 Here it is. The full top 100 list with reference to how much each entry has amassed and whether they are up or down on last years list.
98. Jimmy Rawlinson (Crewe Alexandra) £20m Down 17
98. Ken Bates (Leeds United) £20m Down 8
98. Martin Gilbert (Aberdeen) £20m Down 8
96. Carlo Ancelotti (Chelsea) £21m Up 1
96. Geoffrey Brown (St Johnstone) £21m Down 8
94. Frank Lampard (Chelsea) £22m Down 6
94. Steven Gerrard (Liverpool) £22m Down 4
90. Daniel Levy (Tottenham) £25m Down 8
90. Gerald Weisfeld (Celtic) £25m Down 8
90. Peter Gilman (Walsall) £25m Down 8
90. Wayne Rooney (Man United) £25m Down 25
89. Sir Alex Ferguson (Man United) £26m Down 3
88. Ryan Giggs (Man United) £27m Down 3
85. John Ryan (Doncaster Rovers) £28m Down 16
85. Michael McDonald and Family (Sheffield United) £28m Down 6
85. Roy Keane (Ipswich Town) £28m Down 5
78. Barry Hearn (Leyton Orient) £30m Down 9
78. Bill Robertson (Elgin City) £30m New Entry
78. Jim Kerr (Celtic) £30m New Entry
78. Patrick Cryne (Barnsley) £30m Down 9
78. Phil Wallace (Stevenage) £30m New Entry
78. Phil Rawlins (Stoke City) £30m Down 9
78. Sir Maurice Hatter (Charlton) £30m Down 9
77. Sol Campbell (Newcastle United) £31m Re-entry
76. Martin Morgan (Swansea City) £32m Down 7
75. Peter Johnson (Tranmere Rovers) £33m Down 8
74. Rio Ferdinand (Man United) £34m Up 11
73. Fabio Capello (England) £36m Up 4
72. Keith Dawe (Bristol City) £39m Up 5
68. Andrew Laver & Family (Sheffield United) £40m Down 7
68. Michael Owen (Man United) £40m Down 4
68. Robbie Cowling (Colchester United) £40m Down 7
68. Simon Wharton & Family (Scunthorpe United) £40m Down 2
67. Yasuaki Kagami & family £42m (Plymouth Argyle) Down 7
66. John Boyle & family £45m (Motherwell) Down 8
64. Mike Garlick £50m (Burnley) Down 9
64. Tony Bloom £50m (Brighton) Down 9
61. Calum Melville £60m (Dundee) Down 21
61. Eddie Davies £60m (Bolton) Down 9
61. Richard Carr & family £60m (Arsenal) Down 8
60. Steve Hayes £62m (Wycombe) Down 2
59. Frank van Wezel £72m (Soutend) Re-entry
58. Bill Bottriell £73m (Tottenham) Down 7
57. David Allen £75m (Chesterfield & Sheffield Wednesday) Down 3
55. Carson Yeung £80m (Birmingham City) Up 14
55. Douglas Graham & family £80m (Walsall) New Entry
52. Owen Oyston & family £85m (Blackpool) Down 6
52. Robbie Williams £85m (Port Vale) Down 3
52. Roy MacGregor £85m (Ross County) New Entry
51. Dick Watson & family £95m (Doncaster Rovers) New Entry
50. Nigel Doughty £98m (Notts Forest) Down 9
49. David & Victoria Beckham £100m (England) Down 11
48. Sir David Murray £110m (Rangers) Down 30
47. Lady Nina Bracewell-Smith & family £111m (Arsenal) Down 1
46. Sir Tom Farmer £115m (Hibernian) Down 4
45. Stewart Milne & family £140m (Aberdeen) Down 8
44. Steve Gibson £142m (Middlesbrough) Up 4
43. William Haughey & family £150m (Celtic) Up 1
42. Dean & Janet Hoyle £154m (Huddersfield Town) Up 19
40. Sir Keith Mills £160m (Tottenham) Down 2
40. Theo Paphitis £160m (Millwall) Re-entry
39. Kevin McCabe & family £180m (Sheffield United) Down 6
37. Andrew Black £185m (Swindon Town) Down 5
37. Sir Elton John £185m (Watford Town) Down 4
36. Dave Whelan & family £190m (Wigan Athletic) Down 5
35. Lord Harris & family £198m (Arsenal) No Movement
32. Robert Earl £200m (Everton) Up 3
32. Sir John Madejski £200m (Reading) Down 3
32. Valery Belokon £200m (Blackpool) Re-entry
31. Lord Iliffe & family £240m (Walsall) New Entry
30. Danny Fiszman £253m (Arsenal) No Movement
29. Sir Martyn Arbib & family £325m (Swindon Town) Down 3
28. Steve Morgan £350m (Wolves) Down 3
27. David Gold £360m (West Ham) No Movement
26. David Sullivan £400m (West Ham) Down 6
25. Terry Bramall & family £450m (Doncaster Rovers) New Entry
23. Peter Coates £500m (Stoke City) Down 4
23. Trevor Hemmings £500m (Preston North End) Up 4
22. Marcus Evans £510m (Ipswich Town) Down 3
21. Stephen Lansdown £516m (Bristol City) Up 2
20. Stephen Rubin & family £520m (Watford) Up 4
18. Randy Lerner £600m (Aston Villa) Down 4
18. The Walker Family £600m (Blackburn Rovers) Up 1
17. Vincent Tan £765m (Cardiff City) New Entry
16. Mike Ashley £950m (Newcastle United) Down 3
15. Ellis Short £1bn (Sunderland) New Entry
14. Lord Grantchester £1.2bn (Everton) Down 4
13. Lord Ashcroft £1.25bn (Tottenham & Watford) Down 2
12. Mohamed al-Fayed £1.3bn (Fulham) Up 3
11. Dermot Desmond £1.39bn (Celtic) Up 1
10. Bernie Ecclestone £1.4bn (QPR) Down 2
9. Malcolm Glazer & family £1.53bn (Man United) Down 2
8. Stanley Kroenke £1.85bn (Arsenal) Down 3
7. Denis O'Brien £1.87bn (Celtic) Down 1
6. Joe Lewis £2.7bn (Tottenham) Down 2
5. The Liebherr Family £3bn (Southampton) New Entry
4. Roman Abramovich £7.4bn (Chelsea) Down 1
3. Alisher Usmanov £8bn (Arsenal) Up 6
2. Lakshmi Mittal & family £17bn (QPR) Down 1
1. Sheikh Mansour bin Zayed Al Nahyan £20bn (Man City) Up 1
(Four Four Two)