Selhurst Park midfielder squares up to team-mate.
Bet on an English Team to win the Champions League Join Betfair and get £25 free!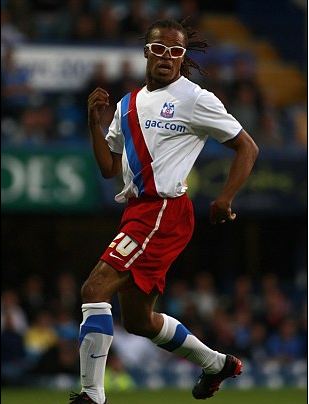 EDGAR DAVIDS has been involved in a furious training-ground bust-up at Crystal Palace.
The Dutch hothead, 37, stunned players and staff by grappling with left-back Julian Bennett and shouting: "I'm the boss around here."
Tempers boiled over when Bennett, on loan from Nottingham Forest, blasted the veteran for giving the ball away in a practice session.
Davids, who joined the Eagles in August, took exception to the criticism and squared up to the defender.
The incident took place two weeks ago at Palace's training base near Beckenham.
A witness said: "Edgar hasn't had the best of times since joining us.
"I think Bennett's comment was possibly a step too far and he just flipped.
"He went over to Bennett, grabbed him and started screaming 'I'm the boss around here'.
"Everybody was stunned and nobody quite knew how to react – before a few of the other lads then jumped in and pulled them apart.
"Players argue in training all the time but Edgar just flipped." (The Sun)
Sounds like Edgar is going down a storm in training, he has also not had the greatest of times on the field of play either. In the four Championship games the Dutchman has started Crystal Palace has lost three and drawn one and the Selhurst Park side now sit second from bottom of the table.
It was a big shock when the former Ajax, AC Milan, Juventus, Inter Milan, Tottenham and Barcelona man moved to the south London club but it will be equally shocking if he is still at the club at the end of the season.
For some reason the idea of Edgar shouting repeatedly "I am the boss" made up think of this classic scene from The Aviator.