Shocking development in Copiapo.
Bet on an English Team to win the Champions League Join Betfair and get £25 free!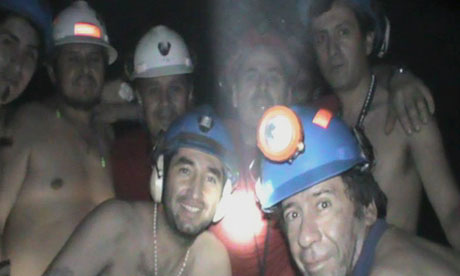 Word is reaching us that the last ten miners trapped in the Chilean mine for over two months are refusing to board the capsule that would take them to freedom as they are in the middle of a heated 5-a-side football match.
As the 'Phoenix' reached the final remaining miners audio could be heard of one of the ten shouting repeatedly in Spanish "Over here, over here" and then shouting an expletive. Worried medical supervisors attempted to halt proceedings but were ushered from the pitch after the ten men had agreed to stop play to remove the paramedics from the field of play, the 'field of play' being in reality a small flat area of the main section of the living quarters.
The 23 men who had resurfaced have been frantically trying to find out what the score in the game was and one miner, Jimmy Sanchez, had even threatened to re-board the capsule and had to be sedated. Some psychologists believe that the football match may have resulted in the throes of some sort of 'psychotic break' and the inability to cease play in the match is a very worrying sign.
The miners had been given a football some weeks earlier but that had been deliberately punctured by one angry player who was convinced his goal had in fact 'gone in' and only scrapped the jumper that was acting as a goal post. This did not prevent this potentially ill fated 5-a-side match from kicking off as they are simply using a bunch of scrunched up socks in a carrier bag as a football and the latest reports state that the two teams have been locked in a 3-3 draw for the past three hours and they are now in an extended period of 'Golden Goal' action which doesn't appear to be drawing to an end due to the very high standard of goalkeeping.
At one point the electricity supply to the mine was cut in the hopes that the lack of light would force the protagonists to halt. However this merely led to a short break as the miners all collected their helmets and simply switched on their headlights.
It was then decided the best way to get the players to stop this foolishness was to get the mothers of all those playing to make an audio recording of them shouting "Your dinner's ready, time to come home". As yet we are unaware as to the success of this plan.
More on this breaking news will appear on Sky News ad infinitum for the forthcoming days and weeks.