To share or not to share. Anfield supporters prepare for life after Hicks and Gillett.
Bet on an English Team to win the Champions League Join Betfair and get £25 free!
Liverpool Tickets Available from Tixdaq.com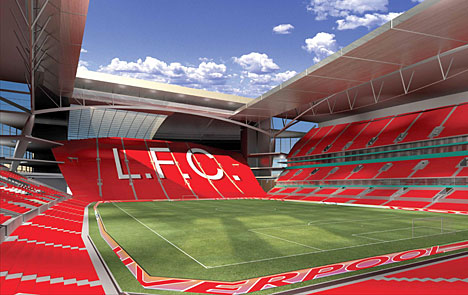 Assuming NESV take over Liverpool FC, and fingers-crossed they will. January will bring excitement as the window comes and goes, then…many fans thoughts will turn to a very big issue, the stadium!
There are four burning issues here.
1. Stanley Park or Anfield.
The new development in Stanley Park would undoubtably be simpler to build, less legally challenging, have more space and, lets not forget that £35m has apparently been spent on preparation works (though how much of that was spent on Tom & George preparing their lies is unknown)
 
A redeveloped Anfield would be tremendously popular with hardcore fans and those who like their nostalgia,  Memories of Shankly and co are steeped in that buildings very mortar and that is hard to ignore, certainly such a move would endear NESV to Liverpool fans wary of a new set of Yank owners and be inkeeping with their track record (see Fenway Park).  Difficulties with planning permission, the council's well publicised opposition to the idea, the limitations of the plot and the question of reduced capacity and/or temporary relocation in the 2 seasons or so it normally takes to build a stadium will all need looking at! 
LFC Chairman Martin Broughton has stated that NESV have as yet, no position on this issue, which is good, it means they will look at it and judge both possibilities on their merits.
2. The Capacity
 Mr Broughton reasures us that NESV are however committed to a capacity of at least 60,000 either way.
I wonder if a capacity increase of under 15,000 (granted there is also the up-turn in Exec boxes etc) warrants a likely £500m build cost?
Only vanity and an unrealistic game of keeping up with the Joneses would persuade you that we need to rival Old Trafford's capacity, but it should be remembered that when the idea of the new stadium was first talked about, plans of 70,000 seats were drawn up, they were reduced to 60,000 due to financial restraints, ie, the addition build cost, but that was in the Moores' days, NESV should, and surely will, consider the cost vs. revinue of a bigger capacity.
3. The most emotive one, Sharing?
An old arguement re-ignited by LFC legend Kenny Dalglish this week saying it would need to be looked into.
As a city, Liverpool used to pride it's self on the relationship of it's rival fans, famous photos of Blue & Red shirts stood side-by-side at the '86 cup final, the fantastic support given by Blues fans after the horror of Hillsborough, but in recent years, it has undoubtedly deteriorated.  BUT is that a reason not to share, or a reason to share? surely, all but the most bitter would rather see the rivalry as a friendly banter again?
There is bitterness, some Everton fans believe Liverpool get the 'better deal', when they finished 4th with Liverpool 5th, the reds were allowed back-door entry to the Champions League, while Everton didn't make the group stages after being dumped out by a top spanish side (Liverpool, being asked to qualify against Welsh minnows TNS). Rafa's "small club" joke, some penalty decisions etc etc.  BUT, again, reason to push away or to reach out?
I for one love the merseyside derby, and while I hate to lose it, and dread the ribbing the next day at work… it's NOT the same as Man Utd, I don't hate Everton.
It works for AC & Inter, Lazio & Roma (and many more) sure, lots of BIG sides share, it proves that LOGISTICALLY it works, but each city, each team, each rivalry is different, and should be judged seperately.
"But with 3 domestic and 2 european competitions, all those home matches would destroy the pitch"!  Sure, it'd be a challenge, but the Italians have cup games, and the likelyhood of AC & Inter BOTH being in Europe at one time is MUCH higher than both merseyside clubs.  This is an excuse, it's do-able.
The colour of the seats? simple.  The 2 long-sides are either white, or blue and red checks, and used by whoever is the 'home' team. The KOP has to be red, home support for Reds games, away support for Everton.  The opposite end, Blue, with an Everton-name, their home end, used for away support at LFC games.
Different Capacities? sorry blues fans, but Liverpool will always draw bigger crowds, and some will say, why will the blues pay 50% of a stadium that is bigger and thus costlier, than they want?  One solution could be this… (simple figues used)
If Liverpool want a 60,000 seater at £500m, and Everton want a 50,000 seater at £400m, Liverpool pay £300m, Everton £200m, BUT a section containing 10,000 seats is off-limits to Everton matches (if it were on the kop it would make sense due to lower away numbers)
"History, what about the history of two individual clubs?" where did Everton used to play again?
What are the benefits?

Shared building costs
Shared running costs
Less city space used, leaving more for development of jobs and homes!
2 old stadia sold to pay for 1 new stadium, more capital to invest.
If the new stadium were a redeveloped Anfield, the clubs could share Goodison while the builders are in.
Showing the rest of the world what scouse spirit is.
When the idea was initially raised, the European Development Fund was ready to put up a multi-million pound incentive to share, for the good of the city.  Is this still available?
What are the questions?
Can Kenwright & NESV get the deal sorted?
Would saving 50% of build and running costs compensate for sharing addition revinue (from international games, rock concerts etc)
With a proper discussion, possibly vote? could fans be persuaded… if you asked "do you want to" I would expect a near 100% no, but if you said… a shared stadium, this soon, and this much to spend on players each year… or a solo stadium,..this many years longer away, with only this to spend on players… who knows.
4. Finally, what does it all come down to? Money!  Anfield or Stanley Park? 60,000 or more? Shared or solo… the likelyhood is, that all these questions will come down to the maths.  How much can NESV afford/raise, the costs to the club, the revinue generated.  It MAY allow for opinions and feelings, but only if the money is close.  We can probably say that with a likely £100m or so for naming rights, £30m or so for selling Anfield to developers (should we move to Stanley Park) Our new owners will need to find the rest, and if we go it alone, will that mean more dredded bank debt?
So what would I do?  On balance, if I had the money to do it myself… I'd build a new 70,000 seater in Stanley Park, but keeping the Anfield name, moving the original statues and gates etc. I'd give back to the amazing fans by issuing a promise, "you'll never pay over the odds for your team"! Using the extra 10,000 seats to protect finances, I'd promise that wherever we finish in the table, the next season, we'll be no higher than that in the ticket-price-table. (if we finish 7th, we will be no more than the 7th dearest Permiership ticket).  The additional 10,000 pork pies, beers & programmes would also help! I'd ballot the season ticket holders on sharing, with the arguements of financial implications included on the slip,  BUT IN THE REAL WORLD…. we'll have to wait and see.