Italian club makes discriminatory order.
Place any bet your like and get £25 worth of free bets!>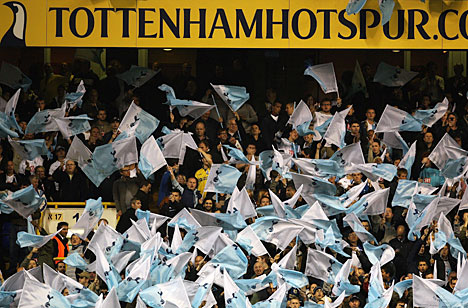 Tottenham fans travelling to Wednesday's Champions League clash against Inter Milan have been advised by the club not to take Star of David flags into the ground – although both UEFA and the Italians say they have no problem.
Travel advice posted on the club website reads: 'Flags and banners with appropriate wording would be welcome at the Stadium, but the Police Authorities have advised that those flags showing the Star of David will not be allowed access and may be confiscated.
'Please respect this request.' (Daily Mail)
The north London club's fans did indeed heed this request but the issue of why Inter Milan had made the order in the first place is surely deeply worrying and a sign that appears to confirm a real problem prevalent in Italian footballing circles.
The issue of racism once again reared it's ugly head during a Serie A match between Cagliari and Inter Milan when a section of the Cagliari support subjects Samuel Eto'o to an incredible barrage of racist abuse, so much so that the referee stopped play after three minutes and the public address system was used to order those 'fans' conducting themselves in such a disgusting manner were told that if they did not stop then the game would be postponed, the supporters were then silenced. The Cameroon international then scored the game's only goal which seemed poetic justice.
The order asking Tottenham to not use any flags with the Star of David was initially denied by the Italian club but then order was confirmed on their website. The north London club has strong links to Jewish community and one wonders what would have happened if someone had attempted to enter the San Siro with an 'offending' flag.
Surely this order should be investigated by UEFA as it would appear to break a number of regulations regarding discrimination.