Old Trafford crisis appears to be at an end.
Place any bet your like and get £25 worth of free bets!>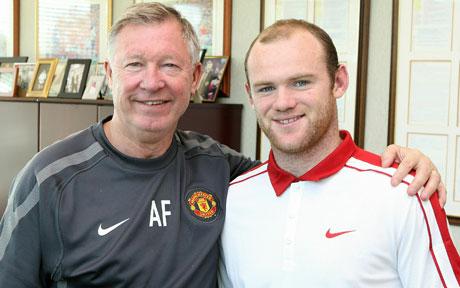 WAYNE ROONEY

"I'm delighted to sign another deal at United. In the last couple of days, I've talked to the manager and the owners and they've convinced me this is where I belong.
"I said on Wednesday the manager's a genius and it's his belief and support that have convinced me to stay.
"I'm signing a new deal in the absolute belief that the management, coaching staff, board and owners are totally committed to making sure United maintains its proud winning history – which is the reason I joined the club in the first place.
"I'm sure the fans over the last week have felt let down by what they've read and seen. But my position was from concern over the future. The fans have been brilliant with me since I arrived and it's up to me through my performances to win them over again."

SIR ALEX FERGUSON

"It's been a difficult week, but the intensity of the coverage is what we expect at Manchester United. I said to the boy that the door is always open and I'm delighted Wayne has agreed to stay.

"Sometimes, when you're in a club, it can be hard to realise just how big it is and it takes something like the events of the last few days to make you understand. I think Wayne now understands what a great club Manchester United is.
"I'm pleased he has accepted the challenge to guide the younger players and establish himself as one of United's great players. It shows character and belief in what we stand for.
"I'm sure everyone involved with the club will now get behind Wayne and show him the support he needs to produce the performances we know he is capable of." (Metro)
To me the crucial, and almost laughable, segment of Wayne Rooney's short statement is the line "I'm sure the fans over the last week have felt let down by what they've read and seen" which may be the closest Manchester United fans get in the way of an apology. He is saying fans may be let down by what they've read and seen, which somehow translates as others, like the media, being to blame and not the player himself.
Sir Alex Ferguson is as professional as ever in his statement. The Manchester United boss has played everything very cleverly these past two days and no doubt he had a lot to do with persuading the 24 year old that he had nothing to gain by looking to leave the club
It will be interesting to see how quickly the fans forgive their hero for his undoubted poor behaviour. Luckily for Rooney he will apparently be out for a week or two given the general public time to calm down a bit after what has been a traumatic week for all parties.