Old Trafford striker, laughing all the way to the bank.
Place any bet your like and get £25 worth of free bets!>
Man United Tickets Available from Tixdaq.com
[picappgallerysingle id="9954846″]
Around 72 hours ago Wayne Rooney said he wanted to leave Manchester United and stated "I would not be signing a new contract." On this Saturday morning the papers lead with stories of a "Dramatic U-Turn" as though the change of mind was cryptic, and illusive riddle which no one could quite fathom. However when you take into account the 24 year old has been offered a five year deal worth £65m it all becomes abundantly clear.
Rooney held the club to ransom, and he won.
If this whole sorry saga was about the battle to see if player power really existed and whether the game has moved towards being all about appeasing individuals with mind blowing salaries, then Wayne Rooney has won the war. Anyone who tells you different is wrong.
Sir Alex Ferguson looked lost for words, a beaten man, when he told the assembled press that his prized asset wanted to leave, that Rooney was offered a deal better than any other handed out by arguably the biggest club in the world. Yet the club folded, they caved in to the player's demands and have handed him a deal worth £65m over five years, but how can this be the right thing to do?
Man United fans are clever enough to know who is the real winner in this whole sorry mess. It isn't the club, it's isn't the supporters (who will in the end bear the brunt of the sky rocketing wage structure in the game), it is a 24 year old man who felt he was bigger than the club, and to all intents and purposes he proved that he was.
Rooney will have some believe that it was all about the club bringing in big names so that they could compete with the Chelsea's, Real Madrid's and Barcelona's of this world. If this was the case Ferguson and Gill should have said "fine, we'll take that salary increase you wanted and use it to put towards a big name signing", you can imagine that this answer would have confused the former Evertonian and would clearly have been turned down flat.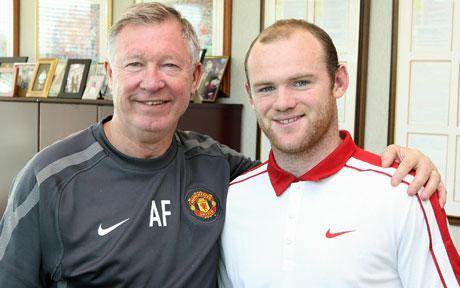 Don't be fooled. This was all about personal gain masquerading as a desire to do what was best for the club. You can't blame Rooney alone for what is happening to the game but you can blame him for holding the biggest club in the country to ransom and you can blame Man United for letting him win.
Ask yourself why Ferguson was happy to allow the likes of David Beckham, Ruud Van Nistelrooy, Jaap Stam and Cristiano Ronaldo to leave the club, when seemingly their intentions to do so were not motivated by greed, yet a young upstart tells the club "I want an obscene wage like the players at Man City, if you don't give it to me then I am off" and for some reason rather than choosing to cash in on a player who appears to not know the meaning of the word 'loyalty' (just ask Everton supporters), instead hands the player the biggest deal in the club's rich history.
This is a man who questioned the loyalty of thousands of England supporters who had travelled thousands of miles at great expense to watch their country play out an appalling draw against Algeria. The gall of the man is frightening. Yet for some reason we as supporters take it. After that outburst at the World Cup supporters tried even harder to sing their hearts out. They took Rooney's words as a sign that he was hurting and that he just wanted to vent, they should have been insulted but because we are talking about a truly great player, we let him get away with it. Imagine if the player making those comments to a handily placed cameraman was Emile Heskey. Imagine it was the Aston Villa man who had said "It's nice to get booed by your own fans. Very loyal.", Emile would probably never have played another minute for England.
Of course the club's loyal support will be glad they have not lost arguably their most prized possession but they will know that to keep him has come at a cost, and not just a financial one. Whichever way you paint it, the facts are clear. Wayne Rooney informed the club he wanted to leave, that he was not going to sign the contract they offered him. The club in the end upped their offer, albeit including a huge extra payment in image rights, to convince Rooney to stay. So essentially the England man held the club over a barrel and the club buckled.
Quite how Rooney can pull on the shirt again and kiss the badge and celebrate his next goal, whenever it arrives, by saluting the massed ranks of Old Trafford supporters, is beyond me. He must know in his heart of hearts that he has done wrong.
Some will look to move the blame towards his advisors, to the snake like figure of Paul Stretford, who has somehow managed to be even slimier than the king of slime, Mr Max Clifford. However if anyone attempts to attribute Rooney's greed to his representative then you are in essence insulting the player by making out he doesn't have the ability to think for himself.
What of the knock on effects of this tawdry soap opera? Well Rooney's team-mates can't be too pleased about what has gone on. Surely now they will all want a big wage increase? Yes clearly Wayne is the most important player at the club but he has hardly been pulling his weight has he? What about those who have actually performed this term, do they not deserve more money? Where will this end?
We could play this story of immense greed off against the potential sinking through debt of Fratton Park outfit Portsmouth. We could play these two stories off each other to show the gulf that exists in the game, but to do so would alter the weight and gravity of what Mr. Rooney has pulled off. If we made such comparisons we would be entering the whole debate on the manner in which the game has changed and how obscene it all is, blah, blah, blah. By doing this we move away from the matter at hand.
Forget for a second that Manchester City can offer their players a kings ransom, forget the fact that even the most average Premier League footballer earns a wage that is wholly unacceptable. Let's stick to the facts.
Wayne Rooney held Manchester United to ransom, and he won. He chose to treat the club that made him who he is today in a way that is sickening on every level and a great club like Manchester United took it. They stood for it when they should have shown him the door and that is the undeniable truth that Wayne, Sir Alex, Mr.Gill and the Glazers can not escape