COS contributor Michael Wade sings the praises of a Stamford Bridge striker who never really got a chance to prove himself at the west London club.
Bet on Chelsea with Sportingbet.com and get a free bet worth up to £50
Chelsea Tickets Available from Telegraph Tickets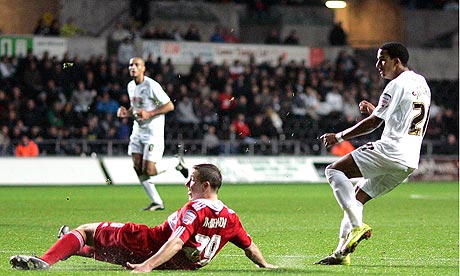 Last Sunday afternoon Scott Sinclair celebrated his call-up to the England under-21s by scoring the only goal in Swansea's 1-0 win against Middlesbrough.
It was a strike that represented much more than three points to both the club and the individual. For Sinclair it was his reward for a season which has seen him and Swansea make a breakthrough they have threatened for the last couple of years.
Sinclair's arrival has coincided with Swansea becoming a real force in the Championship. Before the weekend's win they had been in a bracket of teams vying for a playoff place behind runaway leaders Cardiff and QPR – but where others have fallen away Swansea have relentlessly pushed on to gain an advantage.
They now sit third in the division with a five-point cushion over Derby County in fourth and only two behind QPR in second. In short, they have announced their arrival as genuine promotion contenders and Sinclair to fire them into that position.
A run of one defeat in eight games, including victory in the south Wales derby over Cardiff, have underlined the Swans pedigree as more than also-rans.
Since a summer move from Chelsea Sinclair has been central to Swansea's success scoring 12 goals in the last 16 games, including the winning goal on six occasions – a tally that speaks for itself. Things have never been so good for the 21-year-old.
The youngster has already scored more goals this season than the rest of his career combined and has taken to his new life with ease but there are reasons behind his success.
Finding a permanent home is one of them. Sinclair was loaned out six times by Chelsea, never truly able to settle into a long-term routine at any one place before moving to new surroundings. With five of those loans being to Championship sides it is no surprise that he has taken little time to settle into the division this time.
Being reunited with his former boss at Chelsea's academy Brendan Rodgers is another factor. Rodgers has watched Sinclair's progression since bringing him to Stamford Bridge as a teenager and has now worked wonders for Sinclair's game restoring his confidence and recognising his ability by making him the central facet around which the Swansea team revolves.
With just one goal in 32 outings in loan spells at Birmingham and Wigan no one could have realised the impact Sinclair would make in such a short space of time.
In fact when Rodgers invested £500,000 of the club's money in the summer it was seen by some as a gamble on a player that had not been able to make the step up at Chelsea and was being leapfrogged into the first-team fold by players younger than him.
To hear more from Michael Wade check out his Twitter @mikwade or visit his blog at http://mkwd.wordpress.com/