COS contributor Jack Allen wonders just how hard a time the Old Trafford star will get from his own supporters.
Bet on Man United with Sportingbet.com and get a free bet worth up to £50
Man United Tickets Available from Telegraph Tickets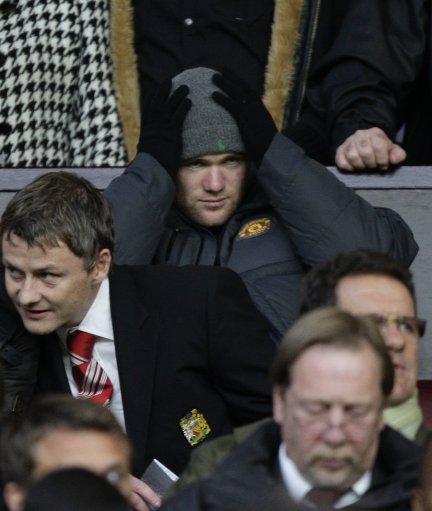 If Wayne Rooney does indeed make his Old Trafford return against Wigan tomorrow, I will be a member of the crowd giving him his first reception since that statement, that press conference, those death threats and that new lucrative contract.
Fans are far from united in how they will react when the striker gets a touch of the ball. Some angered at the way he treated to club, others simply happy that for at least the time being Manchester United still posses their leading scorer from last season. Personally, I'm still not entirely sure how to react. What I do know however, is should a Rooney goal not materialise or fail to calm any hostilities, there is a sure fire way that he can get the fans back on his side.
Staff at Old Trafford thought it right to send Rooney to America to regain his sharpness in a less intrusive environment, and he has returned half a stone lighter and hopefully ready to go. A good performance against Wigan and that all important first goal from open play would certainly go a long way to getting the supporters back on his side, but judging by the performances Rooney had been putting in before his injury, that could well take a couple of games, by which point the problem would in all likelihood only get worse. As a back-up plan, I hope the coaches at Nike Town remembered to teach Rooney the skill that has been winning crowds over for years. I am of course talking about the headed back pass.
For some unknown reason the execution of said move will always result in a ripple of applause emanating from the stands. There seems to be something built into the football supporter's psyche that means whenever a player nods the ball back into his keeper's hands, the brain automatically tells the hands to sound their appreciation;
"Did you see that? He played in back to the goalie in such a way that allows the keeper to safely pick the ball up. Forget everything that's gone before, this kid knows how to play!"
If Rooney misses an early one-on-one, or spoons a shot wide from 9 yards, I'd recommend he drops progressively deeper, looking for any opportunity where he can head the ball back to Van der Sar, before turning to the Stretford End and basking in the warm round of applause that he will inevitably receive. I know I'd certainly have to clap.
---
Fancy a flutter? Join
Sportingbet
and get a free bet worth up to £50! There are countless markets to bet on including which team will win, the first goalscorer, the correct score or even the time of the last goal. You can also try your hand at an accumulator and try to win big from a small stake. So visit Sportingbet.com and register now to put your money where your mouth is.