Old Trafford star now just wants to show what he can do. With a bib. Gosh, that looks fun.
Manchester United tickets available from Telegraph Tickets
Bet on Man Utd with Sportingbet.com and get a free bet worth up to £50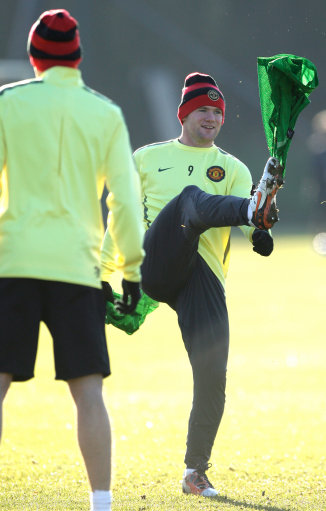 Wayne Rooney was relieved to be welcomed back to the pitch by Manchester United fans at the weekend but admits he was nervous about their reaction.
Speaking to MUTV, he said: "I've been out for a long time, I'd be lying if I said I wasn't worried about the reaction from the fans but the reception was brilliant and I just tried to help the team win and score goals.
"It (the crowd response) was brilliant. I can understand fans' frustrations with the contract negotiations, obviously it happened in the public eye which made it more difficult. But at the end of the day the main thing for myself and the club is that we managed to agree that deal.
"I've signed a new deal to stay here and my long-term future is at Man United."
The England striker also scotched suggestions that some of his United team-mates had been giving him the cold shoulder following the episode.
"The players have been fine," he said.
"There's no problem whatsoever since the negotiations, not before or after. The press have probably made a big issue out of nothing.
"I always made it aware I wanted to be at this club. I had my concerns and voiced my opinion but at the end of the day I'm delighted that my long-term future is at United,
"I want to to help the young players the way Giggsy, Gary Neville and Scholesy have helped me. I want to be here and to continue to make this club successful." (Independent)
There is no doubt that there will be some Manchester United fans unable to forgive Wayne Rooney for attempting to hold the club to ransom with his contract negotiations – whether it was his agent playing puppeteer or not.
For most though, a return to the goalscoring displays of last season will bring redemption.
A decent display against Rangers in the Champions League, in his first full ninety minutes since returning from injury, would be a good first step.
However, it wouldn't have done his relationship with the fans any harm were he to say sorry – even if Elton John says it is the hardest word.
Sorry.