COS contributor Ash Robbins makes a strong case for England's cause. Lets hope FIFA are watching!
Bet on the 2018 World Cup Bid with Sportingbet.com and get a free bet worth up to £50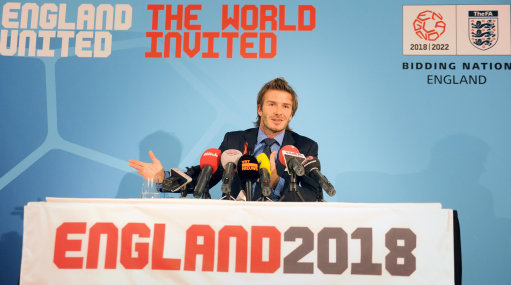 So today is the day we find out once again that England has not won the right to hold an upcoming World Cup. If you believe the bookies, we're second favourites to get it behind Russia. Maybe all the snow is trying to give us a sign?!
If you look at it realistically, there's no way Russia should be able to compete with us. Russia is bloody enormous, fans of the successful team would need to travel several thousand miles by the end of the tournament, and currently Russia is proposing just one high speed rail link. However that would connect just 6 of the host venues, leaving the majority of places a pain in the neck to get to. England on the other hand already has a good transport network in place, with all major cities, and potential World Cup venues, reachable in a handful of hours.
Also, the minimum capacity for a World Cup stadium is 40,000. Russia currently has just one stadium that big whereas we already have 10. Sheffield Wednesday have 39,800 and they're in League One! You need a stadium with a capacity of 80,000 to host the final which Russia has not got anything close to, whereas we have Wembley. England were put on standby to host this year's tournament and if we needed to we could host a World Cup tomorrow. But maybe that's why we haven't had much luck with bids in recent years.
FIFA seems to consider two things when they decide on a host.
Firstly, it seems they like to give the tournament to countries who haven't hosted before. Look at South Africa and Japan/Korea in recent times. These aren't nations which you consider to be massive footballing countries, but giving them the tournament allows football to reach every corner of the earth.
Second, FIFA often talk about a World Cup needing to leave behind a legacy for its host country. This is where I think we don't help ourselves in a weird way. The fact that we already have everything in place to host the tournament means we wouldn't need to build anything specifically for the World Cup, bar improvements to a few stadiums. There would be nothing 'new' to remind the world that the greatest sporting event on the planet had been staged here. Whereas if you give it to Russia, they need to upgrade their transport and at least build 8 or 9 brand new stadia. That's a pretty decent legacy. If you also consider all the money that would be brought into the country through tourism then it makes even more sense.
Of course, this stupid business over the BBC's Panorama programme isn't helping either, which I don't understand. This programme needed to be made. It doesn't matter who made it or when it gets shown. The fact that there is corruption within football's top organisation is wrong and it needs to be made public knowledge. The alternative of course is to rub shoulders with and satisfy the voters. Give them what they want and they might just help you out in return. It isn't right, but sadly it's been proven that this is how football works at the highest level. Lord Triesman didn't do us any favours either did he!
At the end of the day, I fear for our chances once again. Even with knight-in-waiting Becks leading the way I just can't see us winning this thing. It makes perfect sense to give the 2018 World Cup to England. I'd love it and as a football fan I can't think of anything better. Let's hope the voters see sense today, and we can watch our heroes crumble under the expectation on our own soil!
Read more from Ash at his excellent blog by CLICKING HERE
---
Fancy a flutter? Join
Sportingbet
and get a free bet worth up to £50! There are countless markets to bet on including which team will win, the first goalscorer, the correct score or even the time of the last goal. You can also try your hand at an accumulator and try to win big from a small stake. So visit Sportingbet.com and register now to put your money where your mouth is.