If these guys can't win the World Cup 2018 bid to be hosted in England, who could?
Aston Villa v Tottenham tickets available from Telegraph Tickets
Bet on England with Sportingbet.com and get a free bet worth up to £50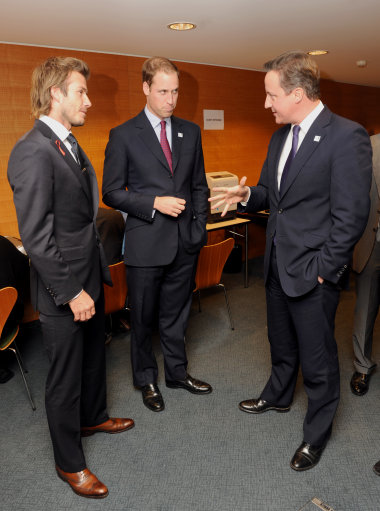 Andy Anson, the chief executive of the England bid to host the 2018 World Cup, has said the voting process lacked "transparency" and England should not bother bidding for future finals until it changes.
Anson, speaking in Zurich earlier today following England's failed bid to host the 2018 World Cup finals, was so incensed with the outcome of the 22-man vote in Switzerland that he said "don't bother" bidding for future finals "until you know that the process is going to change to allow bids like ours [a chance] to win.
"When you have the best technical bid, fantastic inspection visits, the best economic report, and, from what people told us, the best presentation, it's quite hard to stomach that all that seemed to count for absolutely nothing.
"Having only 22 guys only voting gives them too much influence. Running two bids together was clearly a huge mistake. Everyone who had a vote and a bid clearly wanted to trade that vote for something that helped them get over the line in that campaign.
"Australia had a very good bid and they got one vote, we had a very good bid and we got two, the USA had an unbelievably strong technical bid and got three. Six votes in the first round between those three, there's something not quite right.
"You have to open it up to all member associations and have transparency and open voting so everyone knows who voted for whom.
"With 22 guys having so much power it becomes very, very difficult."
Anson added that some Fifa members had reneged on promises following Monday night's BBC Panorama documentary that highlighted corruption in world football and that Sepp Blatter, Fifa president, had spoken to members of the "evil of the media" ahead of the vote.
"I think that was unhelpful; the last thing those guys hear before they go and tick the box is the evil of the media. That is not helpful and actually inaccurate.
"I was told by someone who was in the room that that's the last thing they were told by Sepp Blatter. There was a final sum-up before they voted and I think it was at the beginning of that. That's not helpful to our cause." (Daily Telegraph)
Reactions since the loss to Russia of the bid to host the 2018 World Cup have been completely polarised.
There are those that believe English fans just have sour grapes that they lost the bid, that they have no divine right to host a tournament.
At the opposite end of the spectrum, there are those so outraged that they believe England should withdraw from FIFA altogether.
As ever in such cases, the truth is somewhere in between.
England don't have a divine right to host the tournament, but they did have the best FIFA report – and eventual winners Russia had the worst. For the bid to only get one vote outside of our own confederation seems quite remarkable – especially if FIFA members went back on promises at the last minute, having been wined and dined for the last four years.
Spain / Portugal and the Netherlands / Belgium bid both had more glowing reports than Russia too, so they have a case for holding the World Cup ahead of the country that won, and that is part of the scandal.
The Qatar victory is even more preposterous though.
A country smaller than Yorkshire, with a population around half that of Wales will host the World Cup.
A country with no footballing heritage which has never qualified for the competition in the first place.
A country which will experience temperatures of 50 degrees Celsius throughout the summer, in which stadiums will be air conditioned down to a still sizzling 35 degrees so players can cope.
To select that nation to host the 2022 tournament seems ludicrous to many when there were impressive alternative bids from the USA, Australia and Japan.
Both Japan and the USA admittedly hosted the World Cup within the last twenty years, but to see Australia accumulate just one vote is jarring to say the least.
It is no wonder conspiracy theorists are coming out of the woodwork, but could they – and Andy Anson – all be right?
Is there no point bidding to host the World Cup until FIFA has undergone a complete reformation?
Fleet Street: it's time to do what you do best – some investigative journalism of the highest calibre.
Let's reveal all the skeletons in FIFA's closet.
---
Fancy a flutter? Join
Sportingbet
and get a free bet worth up to £50! There are countless markets to bet on including which team will win, the first goalscorer, the correct score or even the time of the last goal. You can also try your hand at an accumulator and try to win big from a small stake. So visit Sportingbet.com and register now to put your money where your mouth is.