More proof, if needed, that FIFA needs a shake-up.
Bet on Premier League football with Sportingbet.com and get a free bet worth up to £50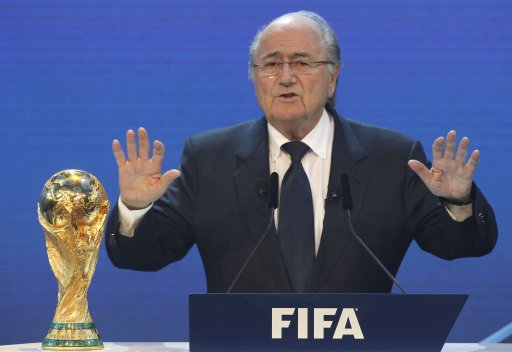 Australia 2022 bid advisor Peter Hargitay has expressed his dismay and astonishment at missing out on hosting the 2022 World Cup finals to Qatar.

Australia were confident of progressing beyond the first round of voting at the very least after being promised six votes, but crashed out spectacularly after being backed by just one individual.

Much to Hargitay's surprise two people then claimed to have voted for Australia and he believes the circumstances just add to the dishonesty surrounding their failed bid.

"Before we went into the voting we had six votes that we were assured that we got. We needed at least five to survive the first round. We always knew the first round would be the crucial round.

"Of the six votes we had one left and that one vote was claimed by two people, so you tell me about dishonesty. After the vote we were told by two people they were the only ones who voted for us.

"One of the two was fibbing. The other four or five who shook hands with the chairman and who were entirely and totally credible and reconfirmed their position before they went into the vote vanished."

When asked if Australia were duped, he replied: "Yes, yes, but that sounds like a cheap excuse. It's not an excuse. It's not trying to explain things. It's not 'Oh my God what did we do?' It's not that.

"The chairman knows how to deal with people and how to do business. He's a great leader. He was a fantastic leader on the team. He's the one into who's hands promises were made and confirmed.

"So you're dealing with a special type of person who will shake your hand and look into your eye at five o'clock on the afternoon of the day before voting and say 'I'm with you'.

"What do you think motivates people? 14 of them voted for a country with a population the size of Zurich or Fiji where the infrastructure to play host to millions of fans still has to be created. I could go on.

"How can 14 men take that decision? It wasn't a tight vote. It's 14 to eight. It's astounding."

When questioned whether people were bought, he continued: "You'd have to ask those people. I guess you have to ask the bid team. This will probably sound weird. The biggest mistake we made, and there was no other way, is that we played it clean." (Sky Sports)
One would hope that as an organization FIFA is at least a little embarrassed and ashamed at how they went about voting for the 2018 and 2022 World Cup, the problem is, they probably don't care. The views of Peter Hargitay are frank and very revealing and the points he raises are very similar to those raised by England bid chief Andy Anson.
Whilst it is true that nothing can be done to change what happened on Thursday there is still plenty of scope to put pressure on Sepp Blatter and co in the hope that they may decide to change the way FIFA does its business.
---
Fancy a flutter? Join
Sportingbet
and get a free bet worth up to £50! There are countless markets to bet on including which team will win, the first goalscorer, the correct score or even the time of the last goal. You can also try your hand at an accumulator and try to win big from a small stake. So visit Sportingbet.com and register now to put your money where your mouth is.
Join the Best Football Manager game now, Its Free!