"I will close my eyes, and when I open them again I want to see a large sum of cash in front of me!"
Bet on Premier League football with Sportingbet.com and get a free bet worth up to £50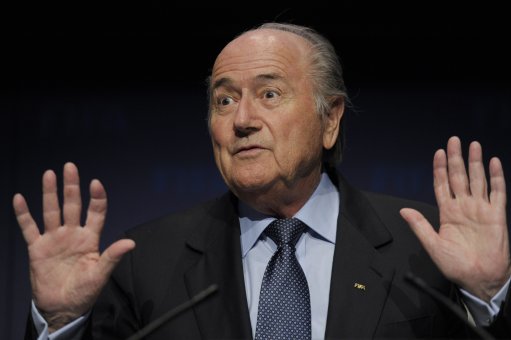 Fifa president Sepp Blatter has labelled England 'bad losers' following their failed 2018 World Cup bid.

Russia and Qatar were last week chosen by Fifa's executive committee to host the 2018 and 2022 World Cups respectively, with England's bid falling at the first hurdle after only receiving two votes from a possible 22.

The decision has sparked an expected negative reaction up and down the country, with bid chief Andy Anson claiming that the voting process needs to be reformed, saying England were promised votes that never came.

Suggestions have been made that Fifa were influenced by reports of corruption from within the British media, after the Sunday Times revealed that committee members Amos Adamu and Reynald Temarii accepted money in return for their votes.

Blatter admits he has been surprised by the response in England, and also criticised the reaction of all losing bidders.

"To be honest, I was surprised by all the English complaining after the defeat. England, of all people, the motherland of fairplay ideas," Blatter told Swiss magazine Weltwoche.

"Now some of them are showing themselves to be bad losers. You can't come afterwards and say so and so promised to vote for England.

"The results are known. The outcome came out clearly.

"I really sense in some reactions a bit of the arrogance of the western world of Christian background. Some simply can't bear it if others get a chance for a change.

"What can be wrong if we start football in regions where this sport demonstrates a potential which goes far beyond sport?" (Sky Sports)
There are some who wish Sepp Blatter fell off a very large building and others who wish him far less sympathetic punishment for the manner in which he is continually bringing the game into disrepute with his cack handed attempt at 'running' the world game. These latest comments just seem wholly unnecessary and will simply further aggravate those who do not need much in the way of an excuse to attack the President of FIFA.
One hopes that irrefutable proof is being examined by the press hoardes, proof that will show once and for all just how crooked a sizeable chunk of the FIFA Executive Committee really are. The way that the world's football governing body have once again embarrassed themselves and failed to heed calls to implement change really does lead me, a normally mild mannered man, to wish that all those within FIFA were covered in jam. See I told you I was mild mannered.
Blatter's comments also cleverly sidestep anger shown by camps other than England's. The American and Australian bid teams appear even more exasperated than Andy Anson and co. yet it serves FIFA's agenda to simply attack England again for the sake of it.
Change will come, I am sure of it.
---
Fancy a flutter? Join
Sportingbet
and get a free bet worth up to £50! There are countless markets to bet on including which team will win, the first goalscorer, the correct score or even the time of the last goal. You can also try your hand at an accumulator and try to win big from a small stake. So visit Sportingbet.com and register now to put your money where your mouth is.