Farcical FIFA decision appears even more stupid than it did already.
Aston Villa v Tottenham tickets available from Telegraph Tickets
Bet on the Premier League with Sportingbet.com and get a free bet worth up to £50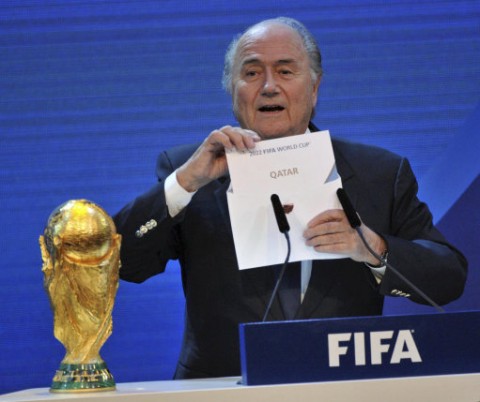 The Asian Football Confederation has urged FIFA to reschedule the 2022 World Cup in Qatar to the winter months of January or February to avoid the desert state's sweltering heat.
The AFC General Secretary Peter Velappan said Thursday that cooling down stadiums and training grounds with air conditioners was "not a solution" and warned that some European teams may boycott the World Cup due to the heat.
Qatar's summer temperature can top 40 Celsius (104 Fahrenheit). Velappan's comments echoed those by FIFA executive committee member Franz Beckenbauer, who earlier this month suggested making a one-time change to the European league schedules to allow the Qatar games to be played in winter. (Associated Press)
Qatar's victory in the bid to host the 2022 World Cup has come under considerable criticism, but this article will not talk about whether England or Spain, or Australia or the USA should have won their respective bids.
Instead, it refers to the extreme climate of Qatar, which is dangerous to those unfamiliar to it.
The World Cup traditionally takes place between June and July every four years, and Qatar's temperatures are stiflingly hot in these months.
In July 2009, the average temperature was 46 degrees Celsius, with the intense heat regularly breaching a staggering 50 °C – or 122 degrees Fahrenheit.
Furthermore, from May to September the air sporadically changes from immensely dry to exceptionally humid – seemingly at random.
Either way, you'll find yourself gasping for water.
There is no way that all the football associations of the world will agree to drastically alter their season to compensate for the 2022 World Cup. It is logistically impossible.
This means that the level of heat that players will be subjected to in Qatar could have serious repercussions for players' health – and fans will feel immensely uncomfortable whether in the ground or walking the streets.
Even if they do manage to air condition the stadia, it is a huge waste of both money and natural resources, and be harmful to global warming. Estimations indicate that the lowest temperatures organisers will be able to achieve should all go to plan would still be well above 30 °C anyway, and FIFA still have a lot to answer for.
---
Fancy a flutter? Join
Sportingbet
and get a free bet worth up to £50! There are countless markets to bet on including which team will win, the first goalscorer, the correct score or even the time of the last goal. You can also try your hand at an accumulator and try to win big from a small stake. So visit Sportingbet.com and register now to put your money where your mouth is.
Join the Best Football Manager game now! It's Free!