Eastlands star in take it or leave it threat.
Newcastle v Man City tickets available from Tixdaq.com
Bet on Manchester City with Sportingbet.com and get a free bet worth up to £50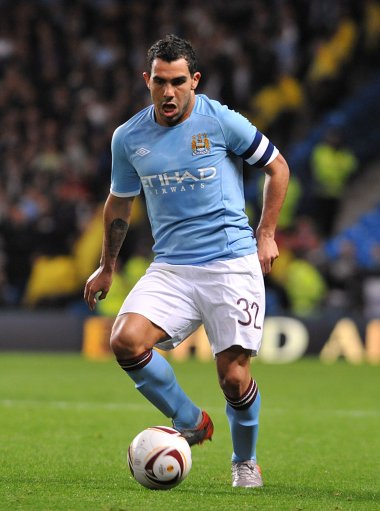 CARLOS TEVEZ will QUIT football if Manchester City do not grant him a transfer next month.
The Argentinian striker is adamant he wants out of Eastlands and says no amount of money will make him stay.
This week, he contacted his lawyer without the knowledge of his advisor Kia Joorabchian to have a transfer request worked out.
But he reportedly told Joorabchian that he feels so fed up with life at City that he is seriously considering retiring from football altogether.
Tevez misses his two children, who live with his estranged wife in Argentina.
And while there is no chance of them getting back together, he believes if he moved to a Spanish-speaking country she would also move there with the kids.
She is adamant she will not move back to England and now a switch to La Liga giants Real Madrid or Barcelona is looking favourite – if City buckle. (The Sun)
The Carlos Tevez soap opera rolls on, and it is difficult to know who to believe.
On December 7th, Manchester City released the following interview with Tevez:
"I'm happy here. I really am," said the Argentina forward.
"I do miss my family, just like anyone would when they are not around.
"But I don't see retirement happening for a long time to come.
"A sacrifice has to be made when you make a commitment like I have done with City and it is something I am going to see through.
"Once that job is done I will have plenty of time with my kids."
If the story in the Sun – and widely reported elsewhere – is true, then the above quotes from Tevez from less than a week ago saw him lying through his teeth.
That seems unlikely, which would mean that if Tevez has talked to Manchester City of retirement, it is an empty threat in order to secure a transfer to Spain.
The Argentine is the highest player in all of Europe at £286,000 per week according to the BBC, but Kia Joorobchian has apparently still tried to improve his contract multiple times – which Tevez denies.
"We know he hates being in Manchester", one senior Manchester City figure admitted to the Guardian, but in that case why would he have moved from Manchester United to City?
It may be a while before the fog is cleared in this story.