Isn't it time Sepp Blatter released a Comedy DVD?
Bet on Premier League football with Sportingbet.com and get a free bet worth up to £50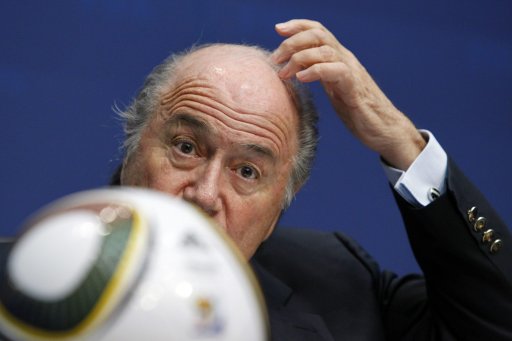 Sepp Blatter is confident that social and religious barriers can be overcome despite fears being raised over the staging of the 2022 World Cup in Qatar.
The Fifa president, who was speaking in Johannesburg at the launch of a post-2010 World Cup legacy project, has come in for criticism following a decision by the world governing body to take the competition to the Middle East for the first time.
Apart from the searing temperatures expected during the period the finals are traditionally held, during June and July, there could be other problems with hosting the competition in an Islamic country.
Current laws mean drinking alcohol in public is forbidden, while bars and nightclubs are almost non-existent. Another issue could be public affection, and gay groups fear problems in a country where homosexuality is illegal.
When asked about such issues, Blatter initially joked by saying: "I would say they should refrain from any sexual activities."
He then continued on a more serious note: "We are definitely living in a world of freedom and I'm sure when the World Cup will be in Qatar in 2022, there will be no problems. You see in the Middle East the opening of this culture, it's another culture because it's another religion, but in football we have no boundaries.
"We open everything to everybody and I think there shall not be any discrimination against any human beings be it on this side or that side, be it left, right or whatever. If they want to watch a match somewhere in Qatar 2022, I'm sure they will be admitted to such matches." (Guardian)
Seriously, it's like Sepp Blatter has turned into some sort of 'On the Buses' character, with all the charm, grace and hilarity of Bernard Manning and Roy Chubby Brown rolled into one. The fact that the FIFA president could even make such a joke is sheer lunacy. If FIFA had an ounce of decency they would seek to clean up their act but it's such a closed shop that it seems that change will only occur if it is forced upon them by the constituent members that make up world football's governing body.
On other news Prince Ali of Jordan, hoping to become the youngster member of FIFA's Executive Committee, has suggested that the 2022 World Cup take place across the Arabian peninsula with some games being hosted in Saudi Arabia, Bahrain and the United Arab Emirates. This all comes off the back of the very real prospect of the World Cup being moved to January, a suggestion that mysteriously only came into the debate AFTER Qatar had won the race to host the tournament.
---
Fancy a flutter? Join
Sportingbet
and get a free bet worth up to £50! There are countless markets to bet on including which team will win, the first goalscorer, the correct score or even the time of the last goal. You can also try your hand at an accumulator and try to win big from a small stake. So visit Sportingbet.com and register now to put your money where your mouth is.
Join the Best Football Manager game now, Its Free!