Blatter and co. selling the game down the river?
Bet on Premier League football with Sportingbet.com and get a free bet worth up to £50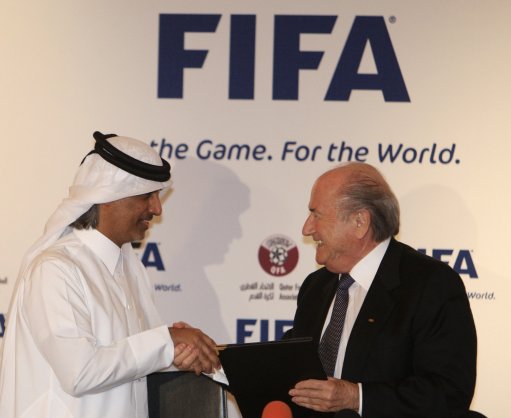 The World Cup in 2022 will be held in the winter, this is an almost unstoppable fact at this point and one has to wonder why and indeed how, this has come to pass.
Let's get this straight. We were told during the bidding process that Qatar had made special plans to deal with the incredible heat that players would have to play in during the summer, they had in place air conditioned stadia and other facilities that would help resolve fears about playing the World Cup in searing heat.
However now, after they had won the bid, it seems that another plan has been drawn up and the way in which FIFA members are all backing the calls for a move to a winter World Cup just stinks to high heaven. It seems clear that many were well aware that this changing of a 80 year old system was in the cards and the other nations bidding to host the tournament have ever right to feel they have been treated with incredibly disrespect by the governing body.
Honourable Intentions?
Sepp Blatter would have you believe that his intention to open the game up to new markets is not a purely financial one but is in fact part of his dream of build up the football brand across the world, and the word 'legacy' will no doubt be sprinkled through any interview with the FIFA president. But may I ask a simple question.
Why do we need to open up new markets for the game? What is the purpose? If it is entirely financial, a way to expand revenue streams, then why do they then not just say so, instead of attempting to fool us into thinking their motives are just and worthy. Let's look at the decision to hand the World Cup to Qatar.
It seems increasingly obvious that the tiny Arab state is not able to host the tournament in the manner in which it had led everyone to believe. Not only is the issue of dealing with the intense heat now being made to look like a stitch up but it is also looking like the World Cup in 2022 will be split up across the entire region and that games will probably also take place in Bahrain, Saudi Arabia and the United Arab Emirates. Now this would all be well and good, but was not part of their bid.
A World Cup based in any of the other bidding countries would not have deviated from their original intentions and yet still Qatar won the bid, how?
UEFA as bad as FIFA?
Shockingly UEFA seem to be in on the act. President Michel Platini openly stated he would back the calls for a winter World Cup, he did so as the figurehead of an organization that had not discussed or voted on their feelings on the matter and that to me seems hugely inappropriate.
Some will talk of Russia's winning of the 2018 World Cup as problematic but at least no one can argue that the nation loves the sport and has a rich footballing history. Could Qatar of their neighbouring countries claim the same? Of course not. However it was one thing to elect to hand the World Cup to Qatar, quite another to then re-write their bid so it suits them, basically negating the entire need for a bidding process in the first instance.
FIFA members almost on mass are now trumpeting the call for a winter World Cup and they will talk about it as though it was inevitable and unavoidable and they do so without regard for what the supporters of the game want.
Bidding Process
When announcing and congratulating the winners of the 2018 and 2022 bids Sepp Blatter was keen to hark on about the need and desire to open the World Cup to new regions and new markets. However this does somewhat make a mockery of the bidding process.
Basically such statements meant that all those bidding from established footballing nations had little or no chance of winning their bids, so therefore means they all wasted time, money and effort.
Scheduling nightmare
The idea of a winter World Cup is sheer madness and quite how FIFA intend to appease European clubs will be interesting. You see a World Cup would mean that there would have to be at least a six week chunk of the season set aside for it. Four weeks for the tournament itself and let's say at least two weeks preparation. The talk is of the tournament taking place in mid January. So how the hell do you go about planning that into the fixture calendar.
Basically the season will have to be extended at either end but to do so would then also impact on the following or previous seasons. For instance. If the season switched from August-May to August-July, then the following season would have to start later and the knock on effect would then be felt for the following season etc….
It seems unlikely that club football will simply bow down to FIFA and perhaps this will lead to a re-think because at present the idea of a winter World Cup is currently being forced through in a manner that is oh so typical of the organization.
---
Fancy a flutter? Join
Sportingbet
and get a free bet worth up to £50! There are countless markets to bet on including which team will win, the first goalscorer, the correct score or even the time of the last goal. You can also try your hand at an accumulator and try to win big from a small stake. So visit Sportingbet.com and register now to put your money where your mouth is.
We're nominated for the prestigious Soccerlens Award for The Best Football Site, Please Vote for Us!
Join the Best Football Manager game now, Its Free!