Eastlands, Stamford Bridge and Old Trafford hotseat on the cards?
Chelsea tickets available from Telegraph Tickets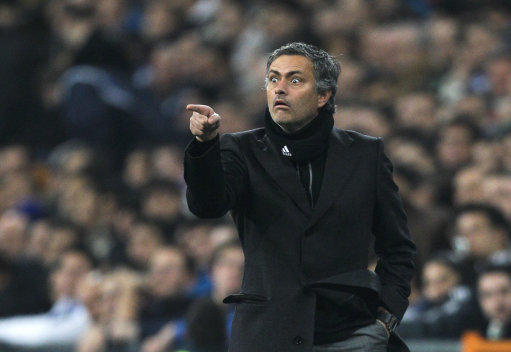 JOSE MOURINHO insists he's heading back to the Premier League.
The 'Special One' lifted the Premier League title with Chelsea in 2005 and now wants to "rediscover the joy" of managing in England.
Speculation is growing about his future at Real Madrid after reports of a strained relationship with president Jorge Valdano.
And Mourinho has refused to confirm he'll be in Spain next season.
Last night he paved the way for his return by confirming: "I've decided to return to England. I have nothing prepared about my future – I just want to be happy in my work.
"I have no preferences about Manchester United, Manchester City or Chelsea. I just want to rediscover the joy.
"I'm not saying the Premier League is the most spectacular in the world but it is the best organised… the fair play and the enormous respect for your opponent."
SOURCE: The Sun
Jose Mourinho doesn't tend to leave jobs without accomplishing his goals, but he could well depart Real Madrid without a single trophy if Barcelona's preposterously good form continues.
The power struggle at the Santiago Bernabeu makes West Ham's interfering owners David Gold and David Sullivan look positively casual, and in Mourinho's instance it may well turn out to be a case of jumping before he is pushed.
The trouble for the Portuguese coach is that none of the managerial positions he mentions at Manchester United, Man City or Chelsea are available.
Manchester City look to have progressed immensely under Roberto Mancini and are title contenders rather than just UEFA Champions League hopefuls. Barring an astonishing collapse in form between now and the end of the season, he looks safe in his job.
Carlo Ancelotti also seems to have turned things around for Chelsea after a difficult period in the winter. The Chelsea boss is thought to be likely to keep his job should he manage UEFA Champions League qualfication, and with two games to come against Manchester United, they can hardly be ruled out of the title race either.
Moreover, Jose Mourinho's relationship with Roman Abramovich soured towards the end of his reign at Stamford Bridge, and though the fans might welcome a homecoming, it has to be considered improbable.
Finally, the Manchester United hotseat will only be vacated when Sir Alex Ferguson decides to leave Old Trafford. No sooner and no later.
Perhaps Jose Mourinho would consider a move to Liverpool in summer of 2011 when Kenny Dalglish's caretaker role comes to an end…?
---
Join the Best Football Manager game now, Its Free!