San Siro prepare mega money move for White Hart Lane star.
Tottenham Tickets Available from Tixdaq.com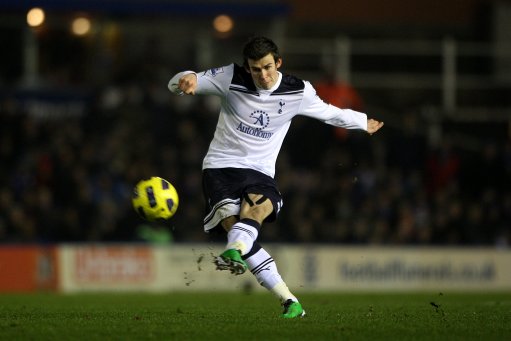 Internazionale will confirm Gareth Bale's growing reputation as the most sought-after player in world football with a £40m bid in the summer, the most that has ever been offered for a player of his age and experience.
The move, if successful, would shatter the transfer record for a British player and propel Bale to an elite within the game in which perhaps only Wayne Rooney, of home-produced contemporaries, could count himself.
That £40m sum could rise higher as the Italian champions' move is expected to spark an immediate bidding war with Real Madrid, where José Mourinho has also made the Tottenham Hotspur winger his principal summer target.
Such a move would place Bale, still only 21, among a gilded elite of expensive footballers. Only four players have ever moved for more – Ronaldo (Manchester United to Real for £80m), Zlatan Ibrahimovic (Inter to Barcelona for £56.5m), Kaká (Milan to Real for £56m), Zinedine Zidane (Juventus to Real for £45m) – and all had made significantly more impact on the European stage than Bale, who 12 months ago was just cementing his place in the Tottenham first XI. The transfer record for a British player remains the £29m Manchester United paid Leeds United for Rio Ferdinand in 2002.
Massimo Moratti, the Inter president, has placed Bale at the top of his wish-list after being smitten by the manner in which he performed against his team at the Champions League group stage.
SOURCE: Guardian
So basically this was the big news that The Guardian were trailing and 'bigging up' and to be honest It seems a bit of a non story as Tottenham have already made it patently clear they will not sell the Welsh international regardless of what offer is placed on the table.
Harry Redknapp has overseen a remarkably transformation of Gareth Bale from a dithering ineffective player who lacked confidence into a world beater considered one of the hottest prospects in planet football. Inter Milan obviously know first hand what the former Southampton man is capable and therefore their interest is even less worthy of the mass hysteria The Guardian attempted to drum up in this EXCLUSIVE.
Perhaps come the summer if the White Hart Lane side have failed to secure another top four finish then there may be some meat to this story but it seems highly unlikely the North London side would consider a sale and it would be incredibly disloyal of Bale to push for an exit so this may well not amount to a hill of beans.