Sir Alex Ferguson ready to bring Loftus Road youngster to Old Trafford, according to the Moroccan anyway.
Man United Tickets Available from Telegraph Tickets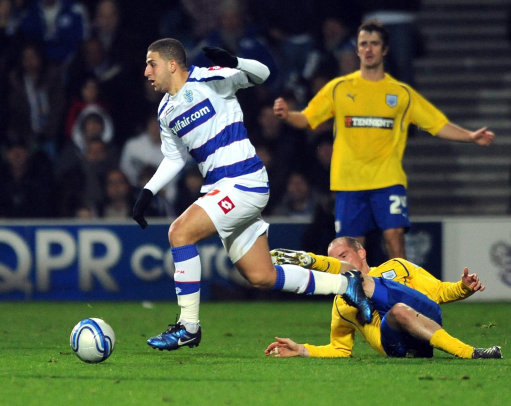 Queens Park Rangers midfielder Adel Taarabt believes he could soon be on his way to Manchester United.
The Moroccan playmaker has been in breathtaking form this season, helping Rangers to the top of the Championship table.
A number of eye-catching displays have not gone unnoticed, with it expected to be only a matter of time before he makes the step back up to the top tier.
He has been at that level before, but struggled to make the grade during a three-year stint at Tottenham.
Taarabt is not short on confidence, though, and has already set his sights on returning at the very summit.
He claims a switch to Premier League leaders Manchester United could be on the cards, with discussions regarding a deal already opened.
"Nothing is official yet," Taarabt said in The People.
"I had discussions about my transfer after my performance against Coventry.
"I'm ready to go to Manchester United.
"We'll see later in the season, as I'm hoping to reach the promotion target with my current club QPR.
"I like England, so I am not against the idea of continuing my career at United."
SOURCE: Sky Sports
Adel Taarabt clearly has no self esteem issues and his outbursts have become well known as Tottenham supporters will recall to their irritation. The Moroccan international did of course state very vocally that he picked the wrong North London club when he moved to White Hart Lane and his comments will surely not please QPR boss Neil Warnock.
The 21 year has had a great season this term, helping his West London side to the top of the Championship with some wonderful consistent performances and a number of Premier League sides have earmarked a move for the former Lens youth player with the likes of Newcastle United and Everton reportedly considering moves for the talented playmaker.
Taarabt clearly believes his move to Old Trafford is a foregone conclusion and I wouldn't be surprised if Manchester United were indeed interested given that Sir Alex Ferguson appears to be looking to build a new generation of talent at the table topping Premier League side.
However whether talks are as advanced as Adel believes they are is another matter. The £10m rated starlet clearly does not have any confidence issues and perhaps that overconfidence is what helps him on the field of play.