Nou Camp giants come calling for White Hart Lane youngster.
Tottenham Tickets Available from Tixdaq.com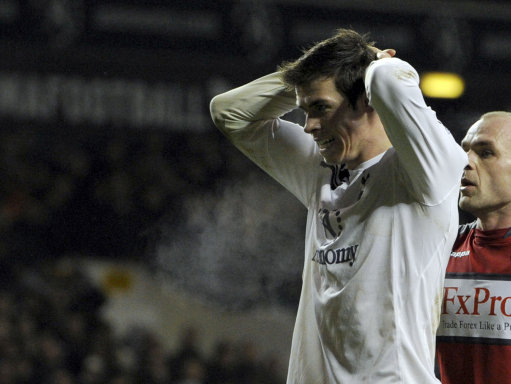 Barcelona are leading the chase to sign Gareth Bale – despite Tottenham's insistence that he will not be sold at any price.
Barca are determined to sign the Premier League's ­hottest property in the summer for £40million.
The 21-year-old Wales ­international insists he is happy at White Hart Lane but even he will be hard pushed to ignore interest from a club now seen as the biggest in the world and playing the most ­exciting football.
Bale's breathtaking form this season in ­domestic and European combat has alerted the most powerful clubs around the globe.
Inter Milan, who Bale tore apart in the Champions League, have ­already declared their interest.
Massimo Moratti, Inter's president and a petro-chemicals billionaire, has personally bankrolled a massive transfer fund that eventually made his club champions of Europe last May.
But the slightest hint of Spurs considering a deal will see official bids from Inter, AC Milan, Real Madrid and mighty ­Barcelona.
The good news for Spurs is that Bale is tied to the club by a five year contract that was only sealed last summer.
But Spurs are still ­perceived as a selling club and ­Barcelona intend to put that theory to the test.
SOURCE: Daily Mirror
Harry Redknapp is of course getting used to Europe's elite plotting moves to sign Tottenham wide man Gareth Bale but will interest from Barcelona prove harder to fight off than offers from the likes of Inter Milan and Manchester United?
The fact that Bale has five years left on his current deal is of course a major statement of intent and shows the faith that the North London club have in the Welsh youngster but what will Tottenham do if the former Southampton man has his head turned by such interest?
What will be key to any hopes of keeping Bale at the club will be whether the White Hart Lane side can clinch another top four finish and failure to do so may well start the vultures circling in earnest. £40m is of course a very large offer and is probably a fair price for a player at the top of his game.
Redknapp will hope that he can count on the Welsh international bombing down the left for some time to come but there will come a point when a solid bid is officially lodged then the proof will be in the pudding and then all references to Gareth Bale's intention to stay at Spurs will be tested.