How it feels to see an Anfield cult hero turn his back on the club.
Liverpool Tickets Available from Tixdaq.com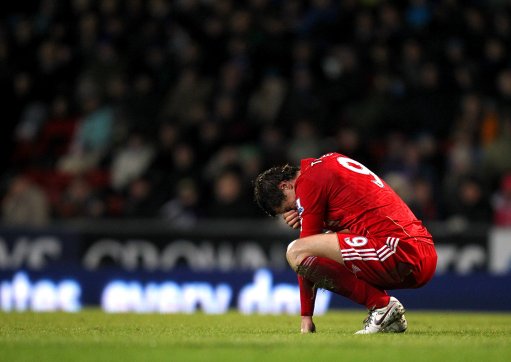 I never thought I would see Torres leave Liverpool, at least not before his 50th birthday, and especially not like this. But, it happened and the world has not ended. That was close. We are here and are unfortunately forced with the realization that our beloved, or so we thought, number 9 is moving on for better opportunities. It is a tough pill to swallow, to be told that you aren't good enough for the likes of a man you once revered and showered with praise and acceptance. It stings.
Bitter? Maybe. Angry? Yes. Disappointed? Whole-heartedly and without reservation, emphatically yes. As much as I frown upon Fernando Torres right now, I did not wish him any ill or misfortune. In fact, I wish nothing but the best for him, except for Saturday. However, I hope he is aware of the severity of his decision and the booming ramifications it produced and will ultimately continue to generate.
Fernando Torres is the total package as far as strikers are concerned. He is big, strong, fast, daring, a hell of a goal scorer, very rarely scores the same goal twice, selfish and determined. He scores when you need him the most and when you least expect it, just as a true striker ought to. Never one to shy away from speaking his mind, whether it's at Howard Webb or John Terry, Fernando Torres, despite his initial language barrier, someone how seemed to get his message across. His grittiness defined him and fit in with the city he played for. Not afraid to go to ground or brush Rio Ferdinand aside, in the end scoring a magnificent goal, it was inspiring to watch the boy from Madrid play and do so well.
He came to Anfield in exchange for a then club record of around 20 million pounds or so and a personal favorite of mine, in Luis Garcia. Hard to forget his contribution to Liverpool's European success, especially against Juventus, Luis Garcia did the honorable thing and left without a word of malice and a heart full of praise and memories for all of those on Merseyside.
Athletico Madrid, the team caught in the shadow of the royalty that lay miles from the Vicente Calderon, knew that their budding star would need room to flex his muscle. Rafa Benitez, who I love, adore and respect and yet with a retrospective glance, ultimately had a mediocre transfer record, saw what others thought was a year or two away and made an offer that couldn't be refused.
Folklore of the young Spaniard already brewing before his arrival (I think we all remember hearing about his armband rumored to be inscribed with a certain credo, certainly the creator of his song did), Fernando was destined for greatness even before he took the field. Expectations sky high for the young man, Fernando took the challenge head on and what we witnessed was history and the making of a legend. He scored his first Premier League goal in a 1-1 stalemate against none other than…you guessed. Chelsea. Eventually scoring 24 league goals, edging the Dutchmen Ruud van Nistelrooy for the most goals in a debut season by any foreign player in top-flight English football. Never as convincing as he would probably like to be for his country and sometimes marred by injury, Fernando enjoyed vast club success with 65 goals in 102 matches for the Reds. An impressive feat no matter who is looking at it.
However, more importantly to many, myself included, he was one of the "good ones" in professional sport. He was hard working, blue collar if you will, loyal, modest, passionate and seemed to embody the spirit of those whose names continue to echo throughout Anfield. Excited as anyone in Liverpool, our beloved son Steven Gerrard knew what he meant to the club. You could see it on his face whenever the two would link up from a ball from the maestro Xabi Alonso, for a timely goal or a cherry on top. And if anyone deserves success or at least a chance at it, it's Steven George Gerrard. Fernando was our number 9. He was there when we needed him, but never stepping on Steven's toes. He was respectful and aware of the role that Stevie G plays in Liverpool. He embraced it and took on a new task, which was scoring goals.
But, like all good things, they must come to an end. An abrupt and unfortunate one it was, but the end of Fernando Torres at Liverpool Football Club is a broad and stark insight into humanity and unambiguously, professional athletes. There is no perfect situation here, no fairy tale ending where, like the great Ted Williams of the Boston Red Sox, hit a home run during his last at bat at Fenway Park. You can only dream of situations as glorious as those, albeit Mr. Williams was a controversial figure in Boston, the sheer magnitude of his home run could not have been doubted by anyone, but rather seems as a miracle. You wait for moments like those as a spectator and a fan because in a way, you are doing it. You are living through this person's experiences and greatness. You are a part of something larger than yourself.
Miracles. No matter how small, i.e. the few inches of that ball, which barely made it over the Chelsea goal line thanks to the tenacity of the sacrificial lamb himself, Luis Garcia. No matter how large. An insurmountable halftime deficit in a foreign land to one of the giants in Europe. But, against all the odds and Andy Gray, prematurely declaring the match dead as his now career, Liverpool were crowned the Kings of Europe. Miracles happen and they live in hope and not being afraid of the going when it gets tough.
So, despite Fernando Torres scoring a crucial game-winning goal with literally 30 seconds left in injury time last season against Aston Villa and being surrounded by a room full of die hard Liverpool supporters in down town New York City and having, what felt like gallons of beer spilled on me, and memorable goals against Inter Milan in the Champions League and Manchester United back in England, he turned his back on us and now its time for us to do the same. A break must be made.
However, this year has proven to be less than stellar for Liverpool and a constant tidal wave of disappointment seemed to wash over Merseyside. But, there was Fernando when we needed him the most. With expectations and moral at an all time low, Chelsea were set to visit Anfield and despite their weak record when playing there, it did not seem like many, players included, were looking forward to the match.
But, there was Fernando. Two goals. Final score. 2-0. A ray of light in a storm of adversity and dark clouds. He was determined to do something about it and burning his jersey or cursing his name will not take away the joy so many felt that day. He gave us something that we needed. He provided for us, he entertained us with his eloquent play and ferocious finishing and even though he has abandoned us and showed us his true colors, it should never be forgotten that we loved him and for good reason.
You'll Never Walk Alone.