Harry Redknapp downbeat on bringing the Premier League title to White Hart Lane.
Tottenham tickets available from Tixdaq.com
Watch Blackburn v Tottenham live streaming with GetSport.TV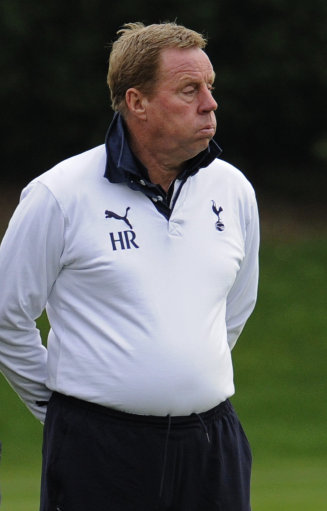 Harry Redknapp has admitted that Tottenham will find it harder to wrest the title off Chelsea and challenge for a top-four finish after falling behind their rivals in the January transfer window.
And the Spurs manager, who had already completed the signing of South African defender Bongani Khumalo and compatriot Steven Pienaar, admitted that qualifying for the top four would be even harder, given the spending by rivals Chelsea and Liverpool.
"The more you look at it, the more you realise how tough it is," added Redknapp. "You look at Chelsea now. A month ago people were saying they were going to drop out of the top four and suddenly Mr Abramovich said, 'I don't think so", and went out and bought two unbelievable players, and I could see them being very close to winning the championship.
"At the start of the month before the window I said I felt the championship was up for grabs. But it's going to be hard because the other teams have strengthened their squads and are looking stronger. It's going to be even more difficult, but we have to keep on going.
"It's hard to get top players unless you pay top money but the players we tried for, the Rossis of this world, the clubs wouldn't sell them.
"The chairman wanted to bring somebody in. If Villarreal would have sold Rossi he'd have done it. I think he offered £35 million but they wouldn't take it. Carroll would have been a good signing for us. We were interested in people like that."
SOURCE: Telegraph
While many have argued whether the standard of the Premier League this year has risen or fallen, few can debate that the league is more competitive than ever.
The five point lead Manchester United hold over Arsenal is illusory; they have yet to go to the Emirates or Anfield, and must play a significantly reinforced Chelsea home and away before the season is out.
To further illustrate just how congested it is, just 9 points separate the 7th placed team from 20th.
However, there are signs that the top four are breaking away from the pack.
Although Tottenham Hotspur have a game in hand on Chelsea, the 6 point gap that has grown between the teams is a cause for concern. It is the biggest distance between any two teams in the league table.
Chelsea also significantly improved their team with the signings of David Luiz and Fernando Torres – who will all due respect are far more likely to pull up the proverbial trees than Spurs' acquisitions Bongani Khumalo and Steven Pienaar.
The two South Africa internationals are good players, but they cost less than £5m between them, while Luiz and Torres were over £70m.
For Tottenham to reach the UEFA Champions League again next season, they will have to put in an almighty effort, and they are only a couple of players short of having one of the best squads in the country.
However, their failure to secure a striker in the January transfer window may come back to haunt them.
Spurs' pursuit of a forward for up to £40m shows just how valuable Redknapp and the club chairman Daniel Levy know that Champions League qualification is, for the cost of a marquis signing would be offset by the huge amount of money brought in by television.
Unfortunately for the North London side though, with nouveau riches clubs Manchester City and Chelsea likely to qualify in their stead, it is the rich that will continue to grow richer.
Perhaps next season then the league won't be quite so competitive.
---
Join the Best Football Manager game now, Its Free!