White Hart Lane boss has incredibly bad transfer window.
Tottenham Tickets Available from Tixdaq.com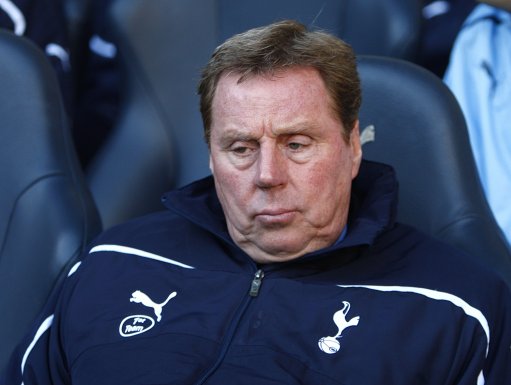 Accoring to Goal.com the following 19 players were subject of at least a passing interest from the North London club, but could this just be a case of a source being a little liberal with the truth?
Charlie Adam BID ACCEPTED
Sergio Aguero BID REJECTED
David Beckham ADVANCED TALKS
Karim Benzema ENQUIRY
Andy Carroll BID REJECTED
Edinson Cavani ENQUIRY
Lassana Diarra BID REJECTED
Edin Dzeko ENQUIRY
Luis Fabiano BID REJECTED
Diego Forlan ADVANCED TALKS
Hulk ENQUIRY
Fernando Llorente BID REJECTED
Romelu Lukaku ENQUIRY
Scott Parker BID REJECTED
Alvaro Negredo BID REJECTED
Phil Neville BID REJECTED
Giuseppe Rossi BID REJECTED
Luis Suarez ADVANCED TALKS
Mirko Vucinic ENQUIRY
Now one wonders just how many of these 'targets' were actual offers made by Tottenham, after all quite of few of these bit of speculation were outright denied by Harry Redknapp. What can't be denied is the fact that the Spurs boss was trying to get some new blood into the team in January but only managed to land Everton playmaker Steven Pienaar and South African defender Bongani Khumalo.
Perhaps more surprisingly Redknapp also loaned out a large chunk of his first team squad with the likes of Robbie Keane, David Bentley, Jamie O'Hara, Kyle Walker and Giovani all leaving on temporary deals. Given that Tottenham are fighting for a crucial top four spot as well as still competing in the Champions League it may have been remiss of Harry to agree to so many players being sent out.
That said it is still true that Tottenham have got a wonderful squad at their disposal and but for a few centre back injury concerns and a misfiring strike force, should be a okay for the rest of the season.