Will Premier League title go to Emirates Stadium or Old Trafford?
Arsenal tickets available from Tixdaq.com
Watch Newcastle v Arsenal live streaming with GetSport.TV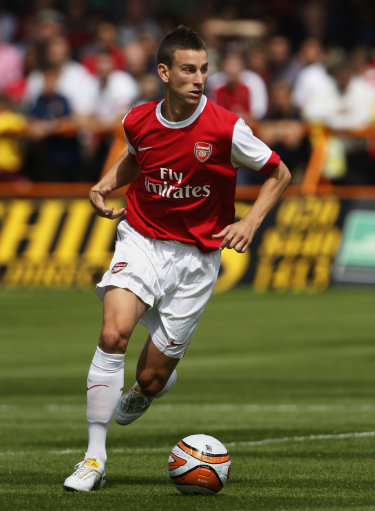 Arsenal defender Laurent Koscielny has dismissed Manchester City and Chelsea's chances of winning the Premier League title by claiming that only the Gunners can overhaul Manchester United.
"It looks like we are the last challengers to United," he said. "We have got more points than Manchester City, Chelsea and the others. We need to focus on our game, keep winning, keep picking up points and maybe United will lose games at some point.
"Anything can happen in this league. That's why we must keep working hard together. We will keep fighting. It's important we keep our defence strong. If we don't concede, we will always make chances to score ourselves.
"It's going to be a big battle between us and Manchester United and hopefully they will drop points, not us. It's not going to be easy. But we have faith in ourselves and in the squad. We do believe we can do it so bring it on."
SOURCE: ESPN
There has been some mischievous reporting somewhere down the line here.
Laurent Koscielny's first statement is quoted differently on the Arsenal official website.
"It looks like we are the last challengers to United" becomes "It looks like we are the main contender."
It is a subtle difference, but substantial nonetheless.
The ESPN quote allows for the story to be that Koscielny has perhaps shown a little less respect to his team's rivals than they deserve, while his words on the Arsenal website do no such thing – only really mentioning that they are Manchester United's biggest challengers because they have the closest points tally.
As for the title race, Arsenal are very much in it.
They have two Premier League fixtures left against teams in the proverbial 'Big Four' – against Manchester United and Liverpool, both at the Emirates. They also do not have to play high flying Manchester City or their rivals Tottenham Hotspur.
In fact, every single one of Arsenal's remaining Premier League games looks quite winnable.
They will of course not get three points in all of them, but the signs still look good.
Manchester United still have to play Manchester City at home, a massively strengthened Chelsea home and away, and a revitalised Liverpool at Anfield.
Is this Arsenals title to lose?
---
Join the Best Football Manager game now, Its Free!