Birmingham midfielder, Craig Gardner, believes fellow St. Andrew's players Roger Johnson and Scott Dann deserve to be called-up to the England squad.
Birmingham City tickets available at Tixdaq.com
Watch West Ham v Birmingham live streaming with GetSport.TV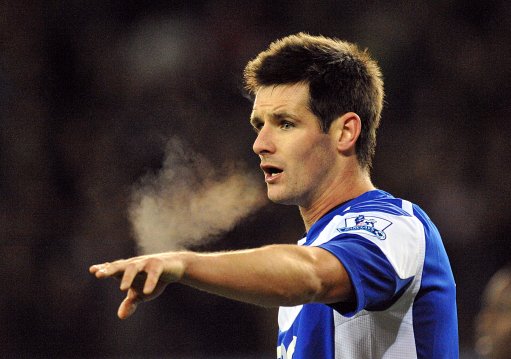 Craig Gardner said: "To be honest, I am quite surprised [Roger Johnson and Scott Dann haven't been capped].

"They are two quality defenders that have done all sorts for the club this season. They've been the rock at the back and they've popped up with a few goals.

"So it is surprising but they're both still quite young. Scotty's only my age, 24, and I think Roger's 26/27 so there's still plenty of time for them to achieve that."

Source: Sport.co.uk
Before the debacle of last summer's World Cup, the idea of Roger Johnson and Scott Dann receiving England call-ups would have been as funny as watching Diego Maradona run through the streets of Buenos Aires in just his birthday suit.
But due to England's poor performances, we must again search for international class players in every nook and cranny because the one's who have tried so far have not looked the part.
Although Gardner may have a biased view on his teammates, anyone who has seen these two in operation would have to admit they are pretty good defenders.
Alex McLeish, the Birmingham manager, was a centre-back at Aberdeen and knows a thing or two about the art of defending, believes he has two world-class defenders at his disposal.
The crafty Scot even tried to persuade Johnson to turn his back on St. George and play for Scotland but Johnson wanted to play for the country of his birth.
Both men are of of good age. Johnson, 27, is getting to the prime of his career, while Dann, 24 is improving with every game (although injury has cut this season short).
Birmingham's successful return to the Barclay's Premier League last season was due to the solidity at the back. How many games did they win 1-0 last season? They kept eleven clean sheets and in terms of goals conceded were eighth in the league.
McLeish says they have not been picked because Birmingham is an unfashionable club Well if that is the case why did Joe Hart get picked for the World Cup, and why does Ben Foster still get a call-up.
Even the embarrassing 'Capello index' supports Gardner's view. Roger Johnson's last match gave him a 58.24, which just pips Michael Dawson (56.46), who is seen as the first reserve at centre-back.
Scott Dann recieved a mammoth 84.14, which wipes the floor with all his closest rivals – Rio Ferdinand (64.16), John Terry (71.20) and Gary Cahill (62.76).
Johnson and Dann may not be the answers to England's problems but they deserve to be featuring in Fabio Capello's thoughts.
---
Join the Best Football Manager game now, Its Free!