The guys at Studs Up have a sick imagination, very sick. CLICK HERE to see how Goodison Park boss David Moyes went about persuading/bribing referee Lee Mason in their recent Emirates encounter. Prepare for the potential to vomit when you click through.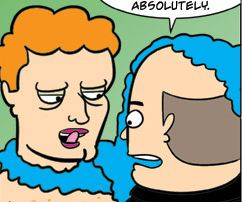 For more background on the actual issue this comic strip relates to, read below.
Arsene Wenger has labelled David Moyes a liar who has broken an unwritten code over the Cesc Fabregas affair.
The Arsenal boss has also alleged that English football is conducting a witch-hunt against his captain.
After Everton manager Moyes claimed Fabregas should have been sent off for what he said to referee Lee Mason at half-time of their midweek game, Wenger offered a furious response.
"I believe that it is wrong for Moyes to come out on what he pretends to have heard in the tunnel," he said. "If I come out with what I have heard in the tunnel is the last 10 years, you would be amazed.
"I think there is a rule in our job to never come out with what is said in the heat of the moment. That usually is respected by everybody.
"You would be amazed with what I have heard in the last 10 years in the tunnels and I never came out with anything.
"You have to understand that if you play football tomorrow with your friends, you go sometimes in at halftime and say something to your friend that you would not be very proud of 24 hours later.
"But it is in the heat of the moment."
Fabregas has escaped an FA charge over allegations he accused Everton of bribing ref Mason.
MirrorSport revealed yesterday that Fabregas shouted: "How much are they paying you," after Louis Saha gave a Everton a controversial first half lead.
However, Wenger believes Fabregas is being singled out.
"I was with the referee, and if I was not with the referee I would not tell you that he said nothing to the referee," said the Frenchman.
"That's why I'm adamant that he did not talk to the referee at all, unless it was on the pitch. And then I do not see how Moyes can see, can get it.
"And he has not been charged! Why has he not been charged? (Daily Mirror)