Sir Alex Ferguson ready to make big money offer to bring Anfield keeper to Old Trafford.
Man United Tickets Available from Telegraph Tickets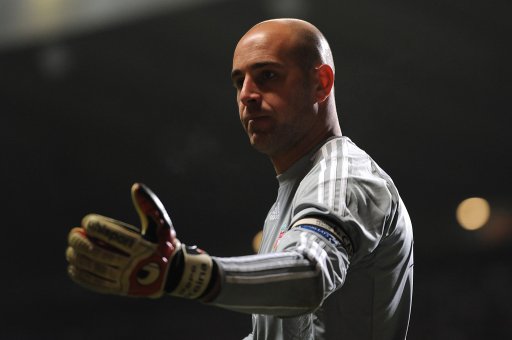 Manchester United are ready to offer Liverpool keeper a huge pay rise in order to lure the Spaniard to Old Trafford. Sir Alex Ferguson is planning to make an offer in the region of £20m for the Anfield goalie as he looks to find a suitable replacement for Edwin van der Sar.
Having seen Fernando Torres make his dramatic move to Chelsea, Ferguson hopes that the talented 28 year old will consider making a move to Liverpool's arch rivals with the promise of challenging for major honours both domestically and in Europe as potential reasons for making the contentious move.
Ferguson would hope that, much like Torres, Reina's lack of tangible success at both Liverpool and Villarreal could drive him to considering a big move to a club who may more likely be able to see him succeed at club level. The Madrid born goalie may also feel that a high profile move may help him get the international recognition he has thus far failed to secure, due in main to the fact that Real Madrid's Iker Casillas appears to have a vice like grip on the Spanish national team starting spot.
For his part Reina has been very defiant about his desire to stay at the Merseyside club but that will do little to deter Manchester United as they try to find the best fit for the club as they attempt to fill a very big hole in their starting line up.
Sir Alex Ferguson knows better than most the importance of a steady keeper behind a back four. He knows that periods of great success at the club have come off the back of stalwarts like Peter Schemichel and Edwin van der Sar and as such he is ready to move mountains to get the player he desires.
The club's money men are willing to back their boss to the hilt and are therefore willing to offer a big salary increase and a big fee to Liverpool in order to get their man.