All ten of these English players have had good seasons for their respective sides, does Capello know they exist?
Premier League Tickets Available from Tixdaq.com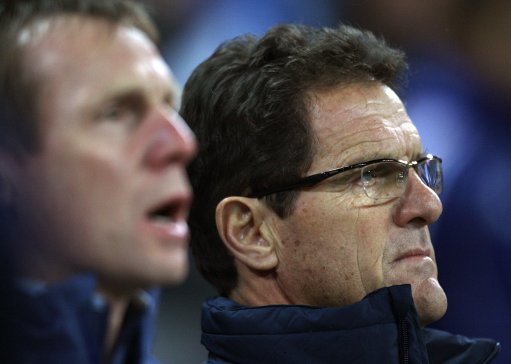 England need to rebuild and some of these players need to be incorporated into the squad for fresh ideas and impetus.
Fabrice Muamba
Arguably the former Birmingham midfielder is one of the few players Wenger was wrong about. Muamba does the ugly jobs that allow other, more creative, midfielders to attack. England have no hard-tackling defensive midfielder in the squad. This has been a problem when it comes to taking on the bigger sides with more influential play-makers. Muamba has been superb under Owen Coyle this season and warrants an opportunity.
Lee Cattermole
Questions remain about his discipline, but if you take the cards away you will find a young, hard-working midfielder who isn't afraid to stick a foot in. Like Muamba, he could prove the key to disturbing bigger international teams. Every centre-midfielder in the Premier League knows what they will get against Cattermole, and they never look forward to it.
Danny Simpson
Against France Capello chose to play Phil Jagielka at Right-Back, injury to Glen Johnson and his subsequent poor form has shown how week England are in this position. But Danny Simpson has emerged this year as a possible candidate; an excellent start to the campaign followed by a consistent winter justifies international recognition.
Roger Johnson
The Birmingham centre half has starred since his £5million arrival in the Premier League 18months ago. Whole-hearted and committed, Johnson is an old fashioned centre-half who could provide adequate cover should Terry and Ferdinand's injuries persist.
Scott Dann
In the same group as Johnson, Dann has been superb for Birmingham and has been treated harshly by the gods of injury. Capable of marking all types of player: those with pace; height or strength Dann can hold his own. Like Johnson, would be worth an opportunity as he could step into the role of the ageing John Terry.
Danny Welbeck
His performance at Stamford-Bridge especially showed the increasing maturity of the United loanee. Happy on the wing or as a striker, his versatility could prove useful in a tournament squad or to a manager with no clue what his best system is. Six goals this season is a reasonable amount, but his pace can hassle any defender. With Walcott not playing regularly for Arsenal, Welbeck could take his place in the pecking order with a great finish to the season.
Tom Cleverley
The brightest spark in a gloomy season at the DW Stadium, Cleverley has showed the talent and ability which makes many believe his future does lie at Old Trafford. Lampard and Gerrard are in their thirties. Could we be having a Cleverley v Wilshire argument in five years time?
Nedum Onouha
Onouha has had a superb season, proving his hunger to succeed in the game simply by refusing to sit on Manchester City's bench. The aforementioned problems at right-back for England help build the case for his call-up. Whilst most full-backs bomb forward but get caught out going back, Onouha has shown he can defend whilst still maintaining an attacking impetus.
Marc Albrighton
Aston Villa's player of the season so far combines pace with potent crossing. His form has been so superb that Houllier has been forced to play Ashley Young in the middle to get Albrighton in. Capello is notoriously inconsistent with his selection of Right-Wingers; could Albrighton step up and end that argument?
James Tomkins
Although in a relegation threatened side which leaks goals, Tomkins is still a prodigious young talent. The necessity for England to find new centre backs to replace Ferdinand and Terry is not urgent, but in three years time it will be. Tomkins will mature with regular football; links of moves to bigger clubs show his ability. England need to look to the future, why not try the untested?