Emirates star could face FA charge over Twitter comments, but do we want our footballers turning into robots or allow them to voice an opinion?
Arsenal tickets available at Tixdaq.com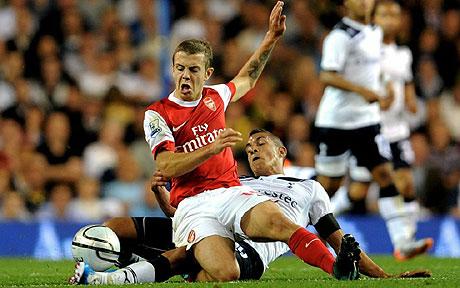 Inconsistent refereeing needs to stop. It's killing the game. If Diaby goes what's the difference between that and Nolan on our keeper?
SOURCE: @jack_wilshere – Twitter.
Arsenal youngster Jack Wilshere may be charged by the Football Assocaition after comments made on the social networking site Twitter.
Wilshere believed referee Phil Dowd should have sent-off Newcastle captain Kevin Nolan for a push on Gunner's teammate Wojciech Szczesny as Abou Diaby was earlier dismissed for a similar incident.
But is the FA right to throw the book at Wilshere for voicing his opinion? After all we do live in a society of free-speech.
Former Liverpool forward, Ryan Babel was charged last month for improper conduct for posting a fake photograph of Howard Webb in a Manchester United shirt following the FA Cup third round tie.
This was different to Wilshere's comment as the Dutchman openely questioned the referee's integrity, implying he was on Manchester United's team, whilst Wilshere simply claimed the referee made an error.
This type of opinion is what football is all about. Everyone has a view on every aspect of the game. At COS we pride ourselves on our readers leaving comments as it is a way for the people to be heard.
Footballers are fans too. They want to see the game played fairly and in the proper way. Banning them from voicing these views is wrong.
Gary Neville was fined £5,000 by the FA for an over zealous celebration of a Manchester United goal He argued the game's governors need to understand footballers were flesh and blood, emotional creatures given to such outbursts. "We're not robots," he retorted.
Networking sites, like Twitter, allow players and fans to interact like never before. Fans are able to talk to their heroes, whilst players use it to build connections with the people.
The FA needs to understand this and maybe by listening to the people that play the game they will start eradicating footballs' problems.
---
Join the Best Football Manager game now, Its Free!