Anfield star could make the shocking decision to move to Old Trafford.
Liverpool tickets available from Tixdaq.com
Watch Liverpool v Wigan live streaming with GetSport.TV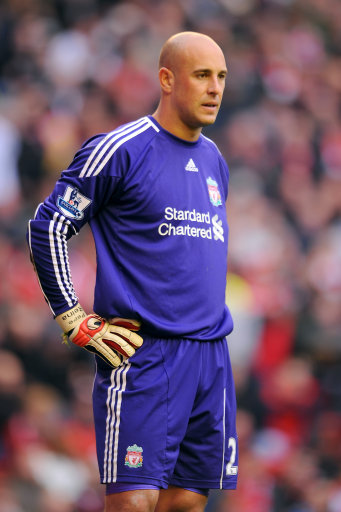 Liverpool goalkeeper Pepe Reina has refused to rule out a move to bitter rivals Manchester United.
United are considering their goalkeeping options as they seek a replacement for Edwin van der Sar when the Dutchman hangs up his gloves at the end of the season.
Reina has been mooted as a possible transfer target after establishing himself as one of the best keepers in Europe during his time at Liverpool.
The 28-year-old has admitted he could be tempted to make the move to Old Trafford as he wants to be challenging for trophies on a consistent basis.
"Yes, well Van der Sar will hang up his gloves in the summer so of course they are looking," Reina told Spanish radio station Ondo Sera. "I can't do anything. I can't say anything logically as I have a contract with Liverpool.
"Of course one likes to fight for titles and be in a team that does that. We always fought to be in the Champions League and try to win the title. But unfortunately it hasn't been the case in the last couple of years."
Former Barcelona and Villarreal custodian Reina has left the door open to quit Anfield if they fail to qualify for the Champions League.
"I won't lie, I want to play in the Champions League and challenge for titles," added Reina.
SOURCE: Sky Sports
Pepe Reina has embraced life at Liverpool Football Club, and has become a firm favourite with the fans.
However, while Fernando Torres' move to Chelsea doesn't exactly sit easy with Liverpool supporters, should Reina join Manchester United there would be far more significant uprising around Merseyside.
Reina must know that.
One would have to assume the reason he gave the interview was because he wants to keep up the pressure on his team-mates to keep up their impressive recent form.
Although his friend and compatriot Fernando Torres has been sold, Reina declared himself happy with the replacements Luis Suarez and Andy Carroll.
"Liverpool will always attract good players because it's an historic club. It's one of the big four teams in England," he said.
"The people will always want to come here, that's clear.
"We're a lot better now."
That doesn't sound like a man unhappy at Anfield.
Finally, Reina is one of the best goalkeepers in the Premier League – if not the best.
Were Manchester United to try to sign him, he would not come cheap.
His contract expires in the summer of 2016, and even if he wanted to leave it would take a mighty fee for a club to break that – perhaps even eclipsing Gianluigi Buffon's record as a goalkeeper.
At just 28, Reina could have another decade at the highest level, while Torres – approaching 27 – might have just 4 years.
To jump ship now would be a stunning kick in the teeth for the fans, and surely premature when Liverpool again seem to be on an upward course.
---
Join the Best Football Manager game now, Its Free!