Alex Oxlade-Chamberlain will have to wait for Emirates Stadium or Anfield move.
Arsenal tickets available from Tixdaq.com
Watch Arsenal v Wolves live streaming with GetSport.TV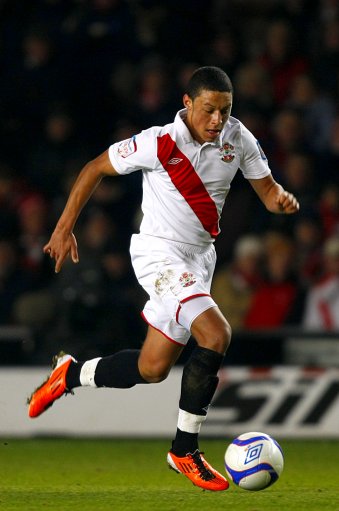 Nicola Cortese, the Southampton chairman, can expect further offers this summer but, as he surveys the magnificent view over St Mary's from one of the corporate boxes, he is adamant that Oxlade-Chamberlain should spend at least the next 18 months exactly where he is.
"From the club's point of view, we could have just cashed in but we care about the boy," he says.

"I do believe that for Alex the best place for him to progress over the next 18 months is here in Southampton with us. We know him inside out, he knows us inside out.
"We honestly believe that a Premier League club could not offer anything more to the boy than we can offer apart from playing in the Premier League. In terms of development and all the other aspects that are important at this age, we can deliver the same standards."
"Factually, I was in the driver's seat," he said. "The truth is that I did not even negotiate. There were some attempts but I didn't negotiate. There was never really a temptation.
"I have experienced a lot of things over the past month about the behaviour of some of the Premier League clubs. Some have really behaved very well, very professional, great attitude.
"Others didn't even call me and simply sent a fax. No communication, nothing. It gave the impression that they didn't care about the boy. They didn't give you an indication of what they want to do with the player. What happened with those faxes is they went straight into the bin and I didn't even respond to them.
"The others just made a phone enquiry and I told that I didn't want to get involved in negotiations. When I talked to people over the phone, they tried to get involved in negotiations. I simply said that I wasn't negotiating."
Cortese would not mention clubs by name, but it is understood that the faxed offer was from Liverpool. There is also a message for Arsenal manager Arsene Wenger, who spoke out publicly of his desire to sign Oxlade-Chamberlain.
"It definitely did not help their cause – it is as simple as that," says Cortese.
SOURCE: Daily Telegraph
Alex Oxlade-Chamberlain is a fine young talent who many have compared to Theo Walcott.
In 19 starts for Southampton he has scored 6 goals, showing a maturity on the football pitch beyond many of his elder peers.
He has just been included in the England U21 squad for the first time to face Italy, and represents an exciting attacking option either to start or as an impact substitute.
With all due respect, Oxlade-Chamberlain is clearly destined for a bigger club than Southampton, but if his chairman throws offers from Liverpool in the bin and refuses to negotiate with Arsenal, there is little they can do.
Still, Southampton might find it harder to hold on to their star man come summer.
---
Join the Best Football Manager game now, Its Free!